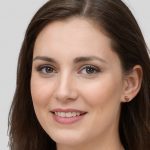 Elena Humeniuk
PPM Consultant
Reading Time:
4
minutes
Microsoft Project Server and Project Online are popular project management systems. Some features are standard, but some are not. That is why one day comes when organizations decide to migrate all the data from Project Server to Project Online. Migration is a very challenging task for PMO Directors and PPM Administrators. Using a script or doing it manually may result in data corruption; some migration tools seem too complex; migration takes too much time.
But why is migration so important?
Evolution of PPM/PMO capabilities. Project Online allows for greater accessibility, increasing collaboration, and leveraging the capabilities of Office 365 with Project Online. Essentially, this is a digital transformation step for the PMO Directors and PPM Administrators.
The tremendous success of PPM in the organization. Migration is a critical step that needs to be done correctly. The importance of an accurate and seamless migration shouldn't be underestimated, as it can have a significant impact on the success of future PMO/PPM accomplishments.
Migration strategy. There are numerous factors and variables which can question migration success and necessity at. A good migration strategy ensures data integrity and sets expectations accurately.
Migrating to Microsoft Project Online is a complex and time-consuming process. FluentPro company has built a tool to make migration more accessible, faster, and more accurate for PMO Directors and PPM Administrators. FluentPro FluentBooks automates multiple tasks and processes, saving you days of work. It also gives you the best control and speed of migration available.
Why Choose FluentPro FluentBooks
Easing the whole migration process, FluentBooks brings many benefits to PMO Directors and PPM Administrators:
Saves 70% of the time spent on migration due to its automation.
Reduces all manual work.
Full and selective migrations are available.
Used by over 500 PWA administrators and consultants.
Enables any migration between any edition of Project Server and Project Online tenants.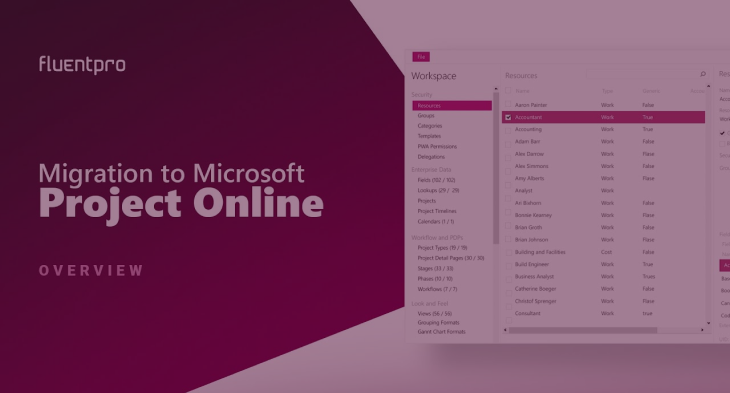 You can request the trial right now from the FluentPro Sales Team. To submit a request, please fill in the Contact Us form or send an email to sales@fluentpro.com
Critical Success Factors for a Migration to Project Online
Our team, with over ten years of experience, has prepared top insights for a successful migration. Discover them before you start the process.
Set clear expectations. We've observed that there's a tendency for IT specialists to underestimate the time required and to overpromise their ability to deliver a migration to Project Online quickly. The reality is that there's a lot of assessment planning and tests to go through before you can commit to a delivery date for a completed Project Online migration.
Estimate the data to be migrated. The more detailed the assessment you can do, the better the estimate you will have for the time required for a migration, and the better the test migration you're going to achieve.
Project Online technical limits. It would help if you considered Project Online's technical limitations – how much data can be uploaded at once. Besides, there are some technical limits to what can be migrated. There may be some customizations in your Project Server and other items that can't be migrated to Project Online. Identify them upfront and see how to manage those exceptions.
Migration strategy. We suggest that the strategy should include the following steps:

Identify components for migration.
Decide if data will be migrated to a clean or preconfigured environment.
Prioritize what needs to be migrated and what can be left in the older system.
Identify what is not supported in Project Online and develop a mitigation plan for this data.
Identify post-migration tasks.

Migration schedule. The critical factor that typically affects migration speed is the amount and quality of data. It would help if you created a detailed Project Online migration project schedule.
Migration environment. Prepare the migration environment (source and target) and Project Online PWA's for migration.
Interface overview. To familiarize with the tools and environment, perform a test migration on a small dataset.
Test migration. Here you will go through all the steps of the migration strategy and identify all the issues that your data and source systems are going to have, and find out the ability of your tenant to correctly process everything that you are going to put in the upload.
Production migration. After you've gone through the test migration and figured out how to overcome the challenges that came up, you are ready to move on to the actual production migration.
Post-migration task. Finally, you need to complete the post-migration validation task. The best way to do this is to report your source data against the target data in the environments.
Risks to Avoid While Migrating to Project Online
Every migration to Project Online comprises several risks, which we believe every PMO Director and PPM Administrator should be aware of to ensure that the migration is successful. Here is a checklist you can go through to secure migration efficacy.
Inaccurate Account or Resource Mapping. Once the Projects are uploaded, it's challenging to correct them. However, if not corrected, they will affect data migration and result in duplicated Resources created by AD Sync.
Complex Master Projects. These can cause an increase in average download/upload/verification time.
Cost or Budget Resources assigned to Project Summary Tasks. These will require additional manual steps due to Microsoft's limitations.
Workflows/Site Templates from older versions of Project Server. Templates from older versions need to be rebuilt for Project Online – an additional step that can't be overlooked.
Projects with a large number of Assignments (50+) per Task. Having many assignments has a direct impact on upload time.
Quality of Source Data. Quality affects download/upload processes. Examples of quality issues in source data include:

Broken links in Master Projects.
Removed fields in Formula fields.
Duplicated Resources.
FluentPro takes away all those risks by providing migration as a service to organizations in addition to the FluentBooks product license. Our team's expertise has been gained over the years, and the tools we have built to optimize migration allow us to perform migration for our clients to succeed and do it right the first time.
Contact our Team
to start your migration today
Contact us