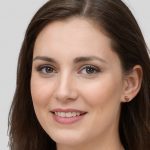 Elena Humeniuk
PPM Consultant
Project managers, directors, and administrators require the most effective technique for managing PPM lifecycles. On top of that, they must keep track of regular file updates every day.
Project managers must regularly deal with human errors, data loss, and corruption. Problems like these can become a significant obstacle, reducing team productivity and stalling projects. Consequently, the company faces severe financial losses.
The easiest and most effective way to avoid such problems is using a good data backup application. Backup tools can keep a log of and backup your data every day so that you can track your data.
There are multitudes of choices when it comes to backup software. This article looks at one of the most reliable backup software for project portfolio management.
FluentPro G.A. Suite for Project Online Backup and Restore
FluentPro Governance and Administration Suite (G.A. Suite) is an online service that combines configuration management, migration, and data management tasks and the ability to backup and restore Project Online configuration, data, and SharePoint content. It uses proprietary technologies that run on the secure and stable Microsoft Azure.
It allows you to schedule or perform on-demand full or partial backups, create several backup plans, and restore when necessary.

Why Use Backup for Project Online?
IT administrators must perform regular project backups as a part of their duties. So, for them, a feature that lets you schedule backups beforehand is godsent. FluentPro offers a vast set of features like this, making it a must-have tool for portfolio management.
Accessing the online project backup anytime and anywhere is one of the biggest appeals of cloud backup software. An enterprise cloud backup can give you a massive advantage by saving valuable space and conveniently allowing you to restore them.
FluentPro G.A. Suite is the best PPM cloud backup solution catering to your needs. You can perform automated backup and restore Microsoft Project Online data whenever necessary.
Features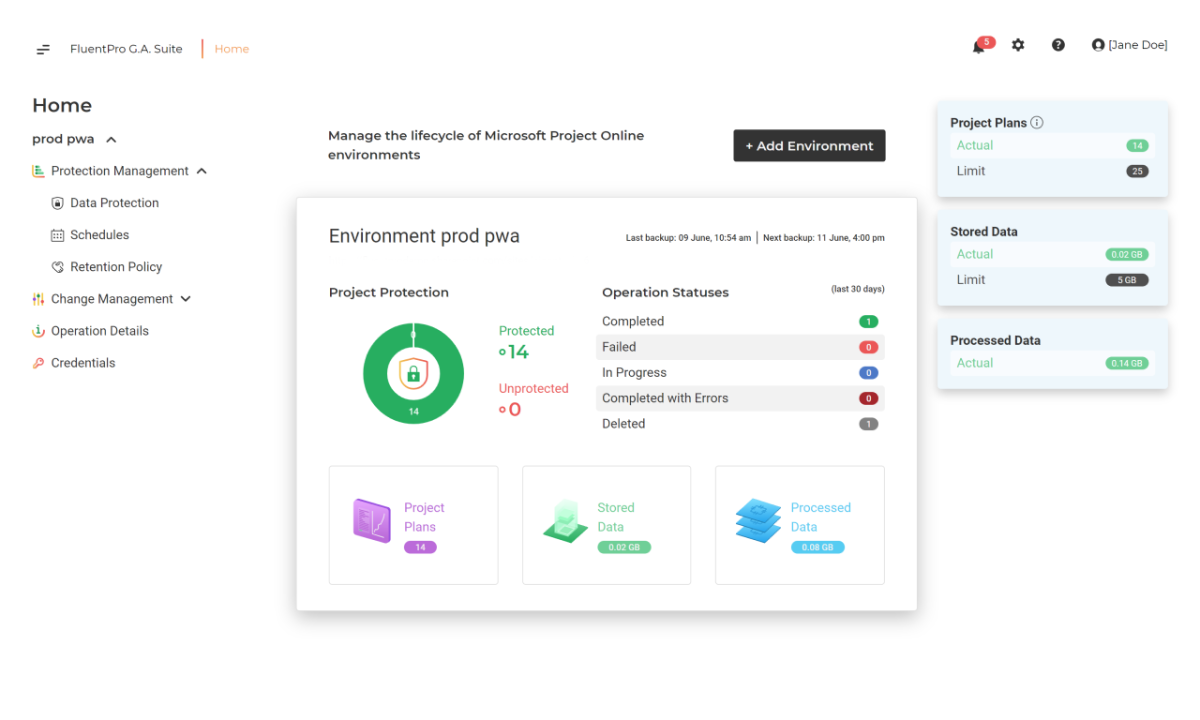 FluentPro gives you access to all the regular cloud backup software features and unique advantages. These include:
Scheduled backup
Backup on demand
Duplicate backup
Copying PWA Configuration from one PWA to another
Generating PWA configuration documentation by copying project plans and locations from one PWA to another
Examine and compare two PWA setups
Make a complete duplicate of PWA
How To Create a Backup Schedule Using FluentPro G.A Suite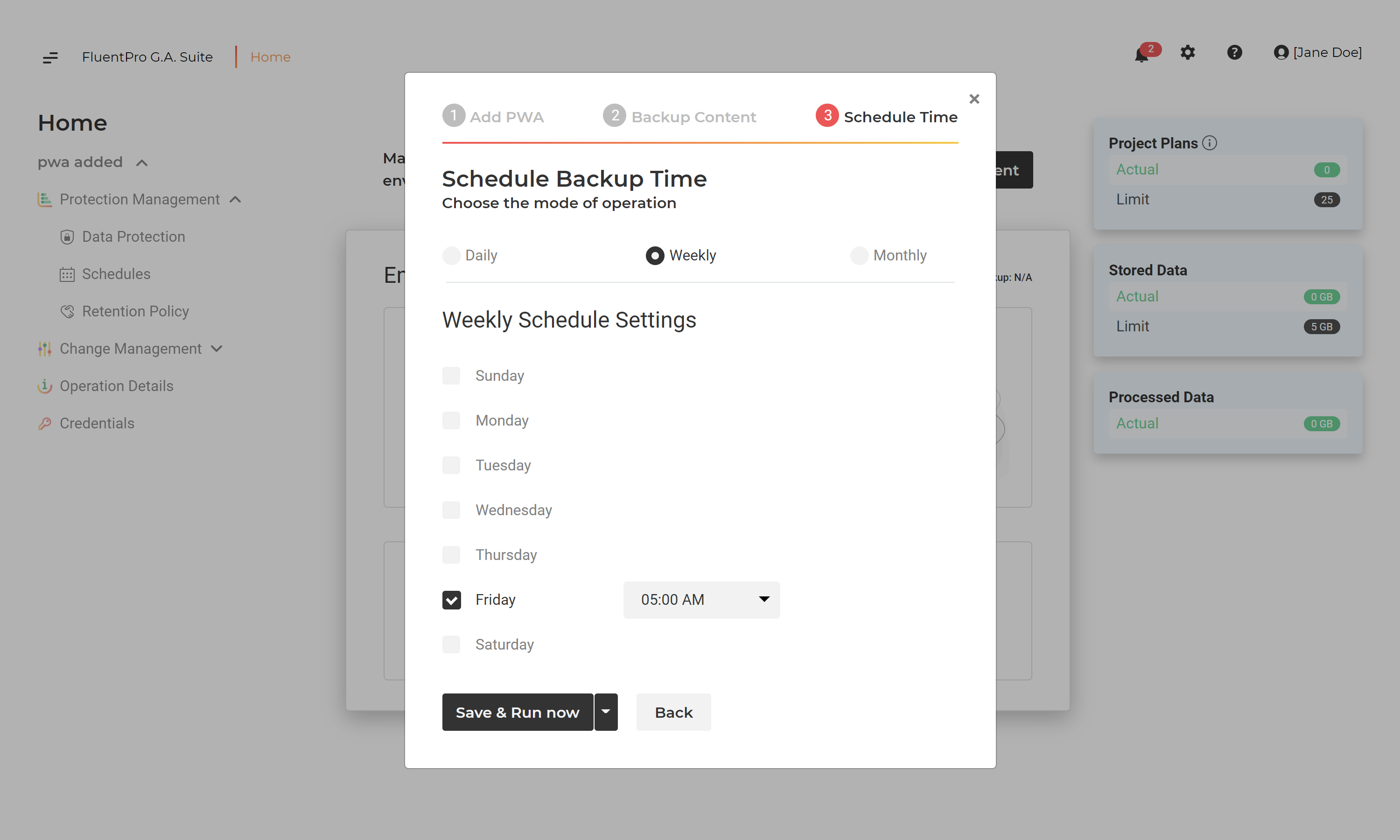 G.A. Suite allows you to build Backup Schedules for any PWA data. When you set up a daily, weekly, or monthly backup plan and pick the content to backup, the G.A. Suite service automatically initiates a backup on the specific day and time.
Go to the G.A. Suite website and sign in using your Microsoft account.
On the G.A. Suite Home Page, click on the environment you want to create a backup schedule. Then click on the Protection Management section and pick the Schedules option.
Navigate through customization options to set up the schedule up to your preference.
How To Perform an On-Demand Backup With FluentPro G.A Suite
You might need to perform on-demand backups during emergencies. FluentPro lets you do an on-demand Project Online backup and restore if you ever find yourself in one of those situations.
It's a relatively quick and straightforward process. Just follow these steps:
Begin by going to the G.A. Suite website and logging in using your Microsoft account.
From the G.A. Suite Home Page, pick the environment you want to backup. Then go to the Protection Management section and select the Data Protection option.
On the Data Protection screen that appears, click the Backup Now option.
How To Restore Data Using FluentPro G.A Suite
Backing up your data won't be helpful if you can't restore it quickly and conveniently. Time is of the essence when it comes to projects.
A good cloud backup software also contains an easy way to restore the backed-up data. Here's how you restore backup data in FluentPro:
Visit the G.A. Suite website and log in with your Microsoft account to start the process.
On the G.A. Suite Home Page, click on the environment you want to restore and click on the Operation Details option.
On the opened Operation Details page, click on the backup you need.
Final Thoughts
You can't go wrong with FluentPro G.A. Suite when it comes to cloud backup solutions. It can be your most vital backup tool when it comes to portfolio management.
FluentPro G.A. Suite for Project Online allows you to finetune your preferences for the most efficient work process while being very easy to navigate. It also gives you various options to back up your data, keeping it safe from corruption or loss.
It is also convenient due to its ability to take the data directly from your Microsoft account and, at the same time, restore them in a proper format.
FluentPro G.A. Suite reduces all data loss risks related to human errors
Provides complete protection for Microsoft Project Online data
Automated backup by schedule or on-demand
Automatic recovery of lost or corrupted data
Schedule a free assessment
to reap FluentPro G.A. Suite benefits today.
Contact us