How to Customize the On-premises Data Access in Power BI
June 10, 2020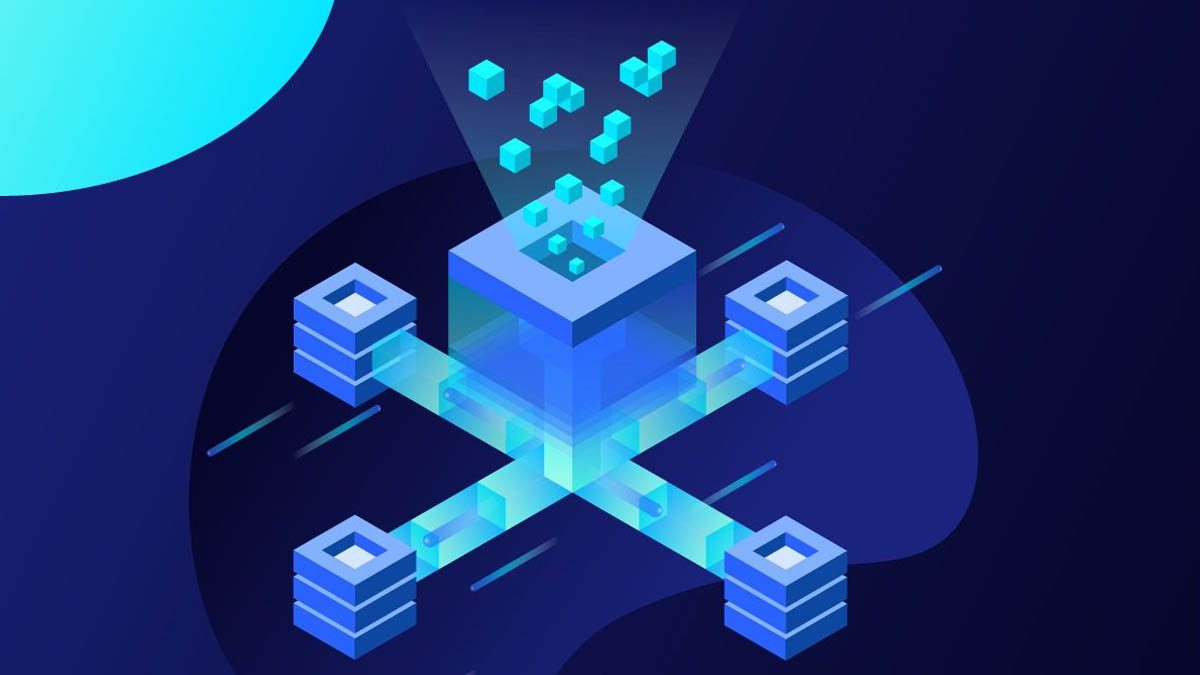 On-premises data access in Power BI keeps your dashboards and reports up to date with local data sources. Thanks to local gateways, you can constantly update data by connecting to local data sources without having to move it. Request large data sets and take advantage of existing investments. The gateway provides the necessary flexibility to meet your requirements and the requirements of your organization. It also allows you to customize multiple local data connections to Power BI, Power Apps, Power Automate, Azure Analysis Services, and Azure Logic Apps using just one gateway.
What Are the On-premises Data Gateways?
The Power BI gateway is software installed on a local network that simplifies data access on that network. It is like the "gatekeeper," which "listens" to user requests for connection and performs them. This allows organizations to store databases and other data sources on the local network while maintaining the ability to use this data in reports and Power BI dashboards safely. The gateway can be used for one or more data sources.
How Do Gateways Work?
The installed gateway works as a Windows service (On-premises Data Gateway). This local service is registered with the Gateway Cloud Service through the Azure Service Bus. Below is a diagram of the flow of data between local sources and cloud services that use the gateway.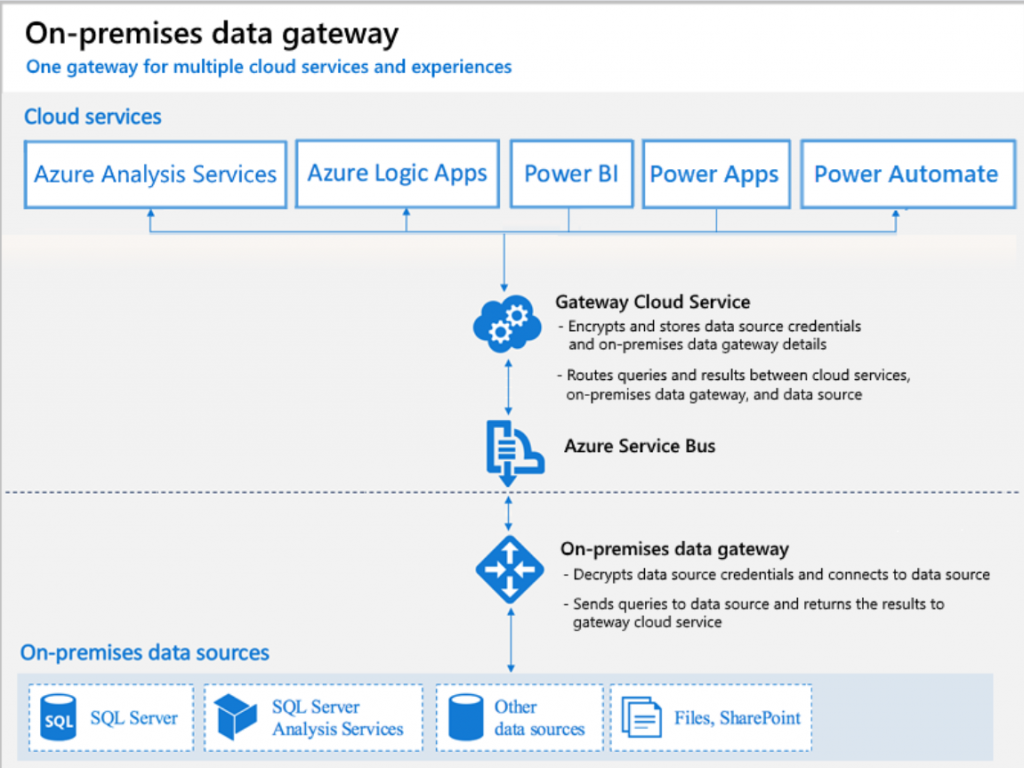 The cloud service creates a request with encrypted credentials to access the local data source. This request is sent to the gateway queue for processing.
The Gateway Cloud Service analyzes the request and sends it to the Azure Service Bus. Power BI manages the service bus yourself, so no additional cost or configuration steps are required.
The on-premises data gateway polls the Azure Service Bus for unprocessed requests.
The gateway receives the request, decrypts the credentials, and uses them to connect to data sources.
The gateway sends a request to the data source for execution.
Results are returned from the data source to the gateway and then to the cloud service and the server.
Types of Gateways, Data Safety & Easy Setup
Power BI offers two types of gateways designed for different scenarios. The local data gateway (personal mode) allows one user to connect to the sources. It cannot be shared with other users. It is used only in Power BI. This gateway is great for cases where only one author creates reports and does not need to give other users access to local data sources.
The local data gateway allows multiple users to connect to multiple local data sources. It can be used from Power BI, PowerApps, Flow, Azure Analysis Services and Azure Logic Apps through one deployed gateway. This gateway is great for more complex scenarios in which multiple users access multiple data sources. Data transfer between Power BI and the gateway is secured using the Azure service bus. The credentials provided by gateway administrators are encrypted to protect the information in the cloud and are decrypted only on the gateway computer.
The basic level of easy setup involves downloading and installing the gateway by following a few simple steps:
Install the gateway on the local computer by selecting the appropriate mode;
Add users to the gateway so they can access local data sources;
Connect to the data sources you need for reports and dashboards.
Update local data, so reports in Power BI contain up-to-date information.
The gateway can be installed offline or in a cluster. We recommend the second option, as it provides a high level of availability.
Use Qualified Help of Power BI Consultants
Whatever your tasks and business needs are, our experienced consultants will provide you with the necessary assistance at all stages. The best way to minimize the cost while enjoying all the benefits of Power BI is to request Power BI consulting services. While Power BI is already a user-friendly solution, it still has a couple of proverbial "ropes" that can be shown by a qualified consultant.  Especially if you are a small business, you might need a specialist in "setting everything up," you don't have on your team yet.
FluentPro's experienced Power BI consultants will help you with anything you need from deeper data research to customizing your Power BI on-premises environment. FluentPro's Power BI Center of Excellence is just the team of consultants and developers who will provide you with all the needed assistance to make the most out of your investment into the Microsoft Power BI platform. FluentPro's proven experts with years of experience will help your organization to:
Adopt Microsoft BI technologies.
Implement all the Power BI innovative tools to your benefit.
Customize the Power BI platform to your maximum benefit.
Integrate any data sources and maintain wholesome infrastructure.
Generate business value through data analytics and visualization.
Transform data and business with Power BI.
Leverage Power BI desktop.
Manage and utilize data effectively.
Connect data from different sources.
Create data models with Power BI.
Create custom data visualizations and style reports.
Share data with Power BI.
Get the best of Power BI Data Analysis Expression (DAX).
Schedule a free consultation
to get help with Power BI today
Contact us