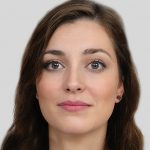 Anna Shalomova
PPM Consultant
IT initiatives today are driving digital transformation. It is aimed at creating business value and competitive differentiation. The ever-changing business environment increases the number, size, and complexities of projects. Thus, your success today depends on your ability to manage them with the highest levels of productivity and efficiency. Handling and analyzing projects, portfolios, resources, and risks are essential to remaining competitive. If you are planning to introduce an IT system for the project, portfolio, and resource management, you should begin your task by selecting the appropriate processes and methods. The step-by-step extension to the full PPM system only follows. Microsoft Office Project and Portfolio Management (PPM) is an efficient and proven universal project management environment.
Your Benefit When Using Project Online with Portfolio Management
You make sure you work on the right projects rather than implementing unimportant ones.
A complete overview of all planned and running projects keeps you up to date on the portfolio.
You know what further new projects you can start and carry out.
You identify budget and resource bottlenecks in good time. You can react to them according to corporate strategy.
When beginning with portfolio management, your first task is to determine which projects should be started. Only then do you address how to optimize the execution. This is the right path if you want to achieve one thing first. This would be to bring together the desired requirements from the corporate strategy and the actual opportunities to deliver results. Microsoft Project Online is a flexible online solution for project portfolio management. Delivered through Office 365, MS Project Online enables organizations to get started, prioritizes project portfolio investments, and delivers the intended business value. What to consider when beginning with portfolio management:
Develop a process for project initiation.
Define criteria establishing which undertaking is to be treated as a project.
Define strategic drivers for prioritizing the projects in the portfolio.
Create a complete overview of running projects to compare them and decide on new projects.
Check their feasibility by comparing the effort and cost planning with the available capacities and budgets.
Complete and rough planning is better than incomplete and too detailed.
Portfolio Management with Project Online
The following portfolio management features are available in Project Online.
Project Analysis and Portfolio Optimization: Helps analyze projects to determine which ones maximize ROI in terms of budget and resources. This process is called portfolio analysis. For more information, see the article on using a scatter chart for portfolio analysis.
Creating and modifying projects: Ability to create projects in various ways. For more information, see Create a project in Project Web App.
More so, when implementing an advanced toolkit, you can get even more. For example, with Integration Hub you can integrate Project Online with project management systems and see all the data available in one place.
Resource Management: Resources are the people, materials, or costs required to complete a project. Solutions from Microsoft allow resource managers to manage a pool of resources, plan resource capacity, and approve, reject, and modify incoming requests for resource use. See the article Adding a Resource to Project Web App for more information.
FluentPro Financials for Project Online can bring your budgeting experience to the next level. This management app provides full control over your project finances and improves profitability.
Participation in the work process: Workflows help to structure the passage of projects and all the necessary steps. The workflow involves defining the life cycle stages the project passes, such as creating a proposal and initial approval. It also sets the required or blocked information at each stage.
Analytics and portfolio selection: In this case, you might consider FluentPro's Power BI pack for Project Online. Power BI Content Packs for Project Online are designed to expand portfolio visibility, help users dig down to the tiniest project detail, and generate reports on the essential aspects of PPM activities. The product is based on the DataMart technology allows Content Packs to continuously obtain the data from Project Online and deliver it to Power BI. Once deployed, it needs no additional attention. (This solution also boasts ODATA interface that any modern reporting engine can consume, not only Power BI.)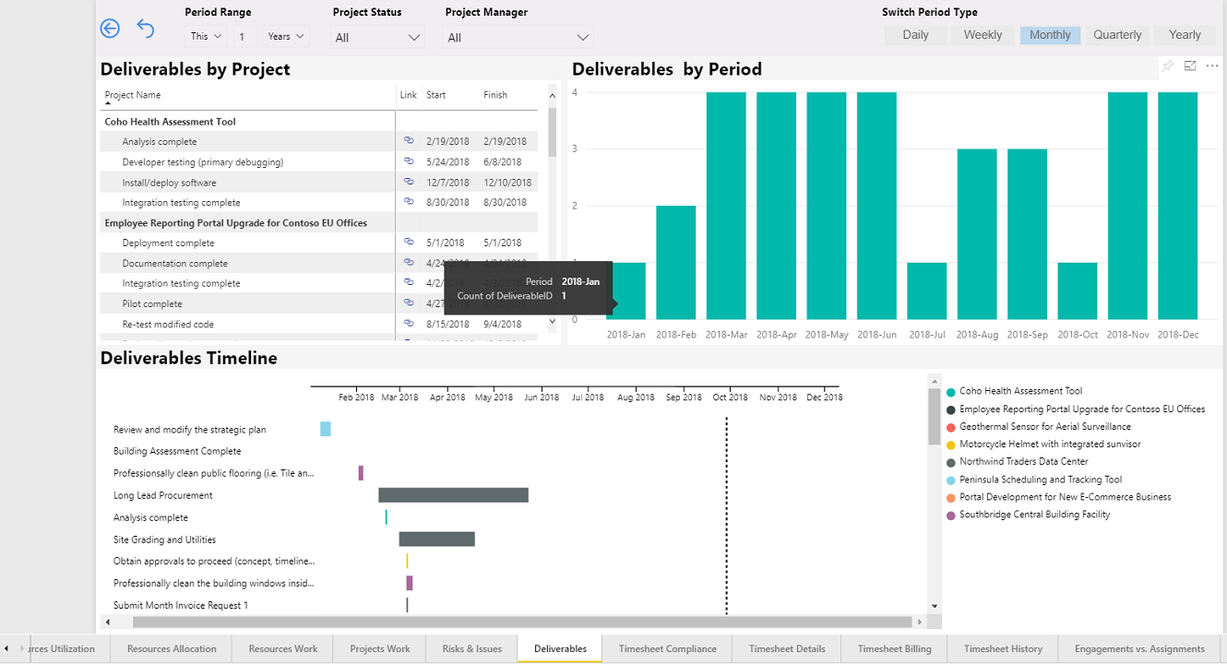 In this scenario, you will find PPM Express extremely useful. For example, if you use several PWAs (for example, if different departments have different PWAs) and you have joint programs and projects. PPM Express will untangle the knot of information, help you structure it, make all the data available, all the processes transparent, and all your PMs. PMO and executives are happy and unburdened.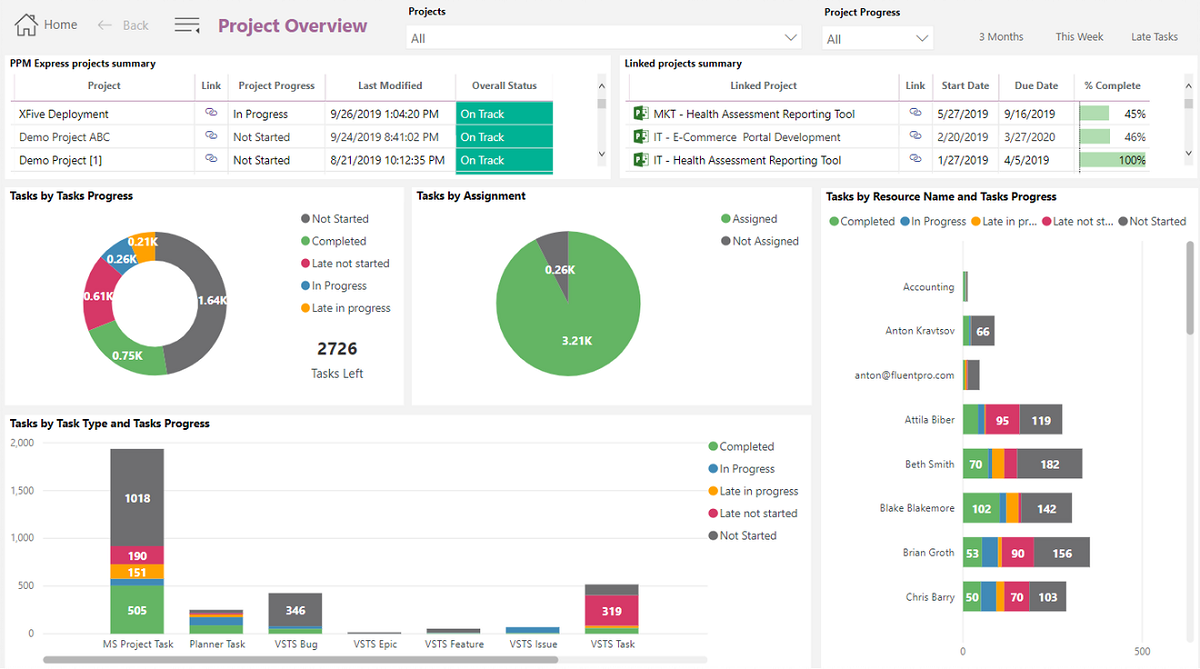 Advanced Reporting
Project Online has a standard built-in report that will help keep all employees informed. Such reports can contain any information: from production charts to financial data. The new file menu opens with thumbnails of templates, showing scheduling features. It is familiar and useful – Gantt charts and drop-down menus with ready-made lists of options help reduce the time for training in working with solutions and simplify project planning. There is an option of using standard reports corporate-wide. These reports will help keep all employees in the know. Such reports may contain any information, from production charts to financial data.
Project Online has embedded templates for project planning and reporting. Timeline Reports and Real-Time Reports are built-in custom templates developed based on industry best practices, allowing you not to create project plans from scratch. This saves time and sets the right course of work. Integrating with Power BI Pro and Excel can help you get useful insights into your projects. The built-in support for OData quickly connects to data portfolios from other business systems for generating advanced reports with easy-to-read data visualizations, including graphs and tables.
Microsoft PPM improves decision-making through improved insights and monitoring. By focusing on business strategy and project management processes, like schedule and resource management, cost management, portfolio management, reporting, and workflows. It maximizes the use of resources and enhances company efficiency.
Schedule a quick demo
to see how FluentPro DataMart can help with advanced business intelligence
Book a demo