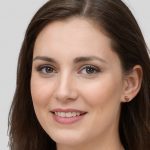 Elena Humeniuk
PPM Consultant
Reading Time:
3
minutes
The agile vs waterfall methodology debate is hot among project managers. These two methodologies are well-known in software development. However, each is designed for different project types. Here is the defining feature of each one:
Waterfall is a unique linear work method that demands project teams complete each phase before progressing to the next one.
Agile management encourages the project team to work concurrently on different project stages.
Agile vs Waterfall Methodology Comparison
Agile methodology
Project managers in many organizations require a flexible project management approach, and that's precisely what agile methodology represents. Developing a software project does not happen overnight, and the digital world changes quickly. Agile was designed to be adaptable, so it can consider stakeholder feedback at any point and accommodate last-minute course corrections.
Using agile project management methodologies drives the team to work on several parts of the project simultaneously, typically under tight deadlines. In addition, the team, instead of a single project manager, determines the project's comprehensive course.
Pros of agile project management methodologies
It's a client-oriented procedure, so the customer is involved from beginning to end.
Due to the high motivation levels and autonomy, software development projects are more likely to succeed using this methodology.
Maintaining a high standard of quality throughout software development is guaranteed by using an agile development approach.
The method relies entirely on tiny, steady wins. Therefore, both the client and the project team know each task's status.
Limitations of agile management
There are more effective strategies for modest development initiatives.
An expert is needed at the meeting to make significant decisions.
Implementing an agile management methodology is costly compared to other development approaches.
If the project manager is unclear about the desired results, the project may quickly go off course.
Waterfall project management methodology
The waterfall technique is a linear approach to project management that is best suited for projects with a clearly defined result from the outset. The project's objectives and each phase's deliverables are well-defined and must be met to advance to the next milestone.
Pros of the waterfall project management approach
Offers a solid project plan from beginning to end.
The team can set up project requirements from the outset, which is time-saving.
The process is more organized because each project phase requires a deliverable to go on to the next stage.
Limitation of the waterfall management approach
It works well for small projects but not big or complex ones.
Moving backward to make adjustments in the earlier phases is challenging.
The testing process begins immediately once development is complete. Thus, it is highly likely that flaws will be discovered later in the development process when fixing them will be costly.
Waterfall and Agile Methodologies Differential Table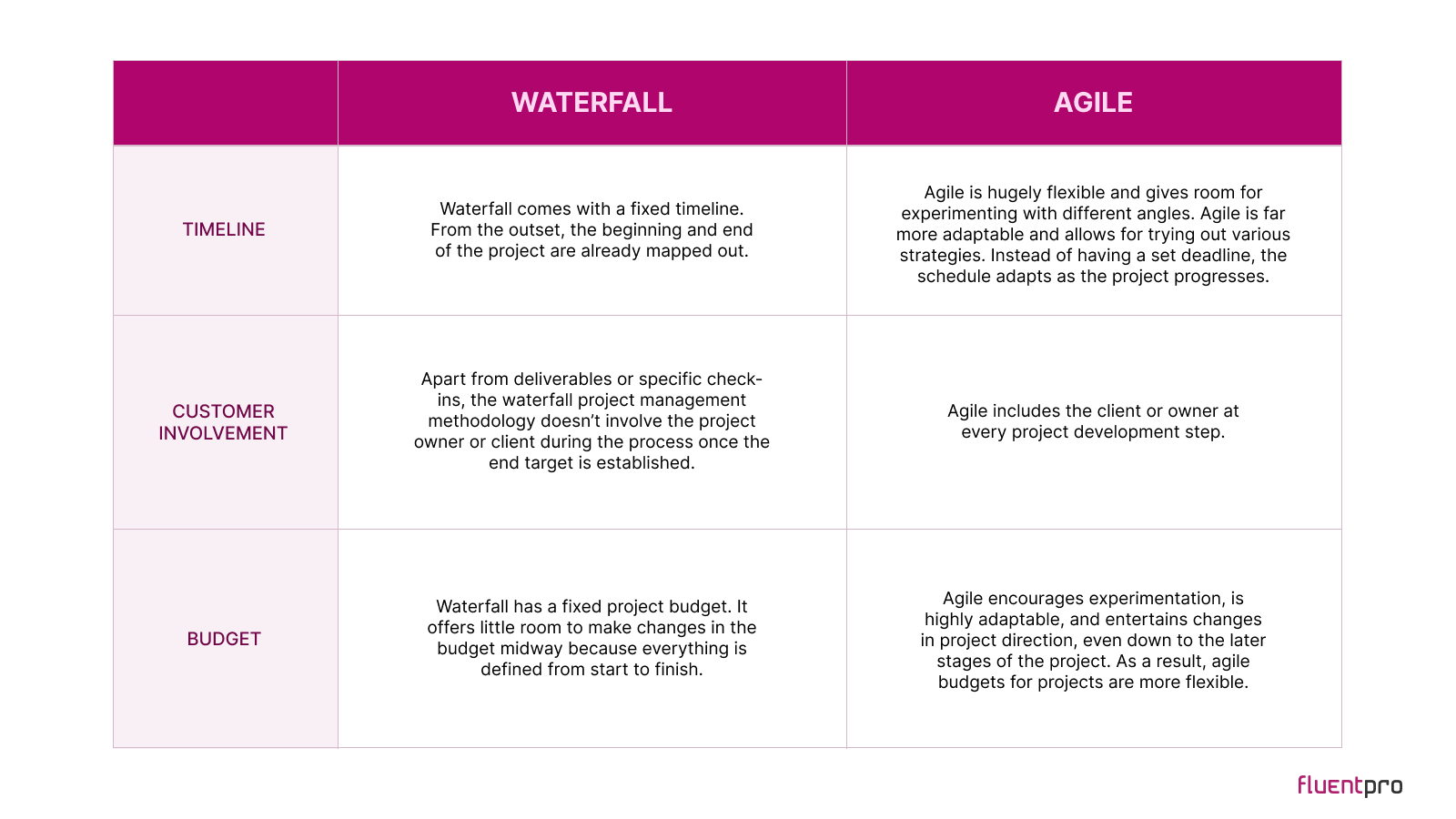 Agile Vs Waterfall: How to Reconcile Both Methodologies for Best Results
As you can see, both agile and waterfall methodologies are beneficial in different situations. Sometimes, you may need the functions from both methods to maximize your project management approach. Unfortunately, running the two procedures simultaneously isn't just tricky and costly, and time-consuming. You need a third-party application to harness the best of both worlds by integrating them. That's where FluentPro Integration Hub comes in.
FluentPro Integration Hub Connects Agile and Waterfall
FluentPro Integration Hub is a unique software with excellent cloud-based functionality. Project managers use it to connect and integrate two or more types of project management systems. Once set up and running, the software lets you integrate project portfolio, financial systems, and work management from waterfall and agile methodologies sources.
The Integration Hub software keeps your team working efficiently on any designated project management platform. As they do so, the software automatically syncs all Microsoft Project Online data with platforms like Jira, Azure DevOps, Office 365 Planner, and Outlook. Instant data synchronization keeps your team regularly updated, gives you a perfect overview of your project portfolio, and saves you from the hassle of double reporting.
FluentPro Integration Hub has a centralized resource management capability that unites your agile and waterfall project requirements. It goes above and beyond simply giving you a unique one-view of your projects –  your mission-critical data are 99% secured and safe all the time.
Benefits of using FluentPro Integration Hub
FluentPro Integration Hub will benefit your organization by:
Saving time
Increasing productivity
Producing timely project deliverables
Allowing teams to keep working in their systems without switching between different project management environments
Providing clear portfolio visibility and project status
Unifying reporting on task progress
Schedule a quick demo
to see how FluentPro Integration Hub works
Contact us