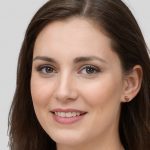 Elena Humeniuk
PPM Consultant
Reading Time:
4
minutes
Today's PMO directors are seeking the best solutions to protect their data in Microsoft Project for the Web—a system used by countless organizations to manage hundreds of projects at once. Much mission-critical data is stored in these project systems. Any mistake in data sharing, migration, or management can disrupt an organization's operations. To reduce the risk of losing mission-critical data, Microsoft recommends using a third-party cloud backup system that automates Project for the Web backup processes and can recover and restore project data quickly.
The ideal solution for Project for the Web backup
FluentPro Backup for Project for the Web is a reliable cloud-based service that protects all Microsoft Project for the Web portfolio activities. Providing automated continuous backup, FluentPro Backup for Project for the Web carries an automated point-in-time version recovery so you can restore data from backup copies if there is any data lost or corrupted.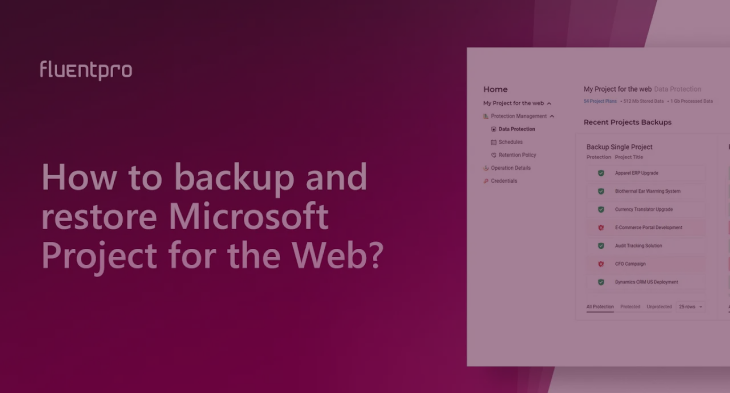 With Microsoft Project for the Web backup, you can backup:
All Project for the Web projects
Selected Microsoft 365 Groups projects
All resources
Concerns about losing sensitive data due to file corruption, ransomware attacks, or human error are over.
All FluentPro Backup data is encrypted to ensure confidentiality and stored on Microsoft Azure, a secure cloud storage platform with automated backup and restore functionality.
FluentPro Backup also provides automated backup and restore for Microsoft Dataverse. You can set the frequency when the table data backup runs in the app. Afterward, you can perform full or granular backup when accidental deletion happens.
What is a backup version?
The backup version is a backup of the last changes made at a particular time. You can save the current data state as a version according to your schedule. It enables you to revert your Environment to a previous version if necessary.
Versions can make it easier to recover from mistakes. For example, if accidental changes are made, you can revert your particular project, group, or resource to an earlier version.
How to add your first Environment and schedule a backup
After sign-up, FluentPro Backup's simple onboarding wizard will guide you to add your first Environment and schedule your first backup. Start by clicking Add Environment.

Select the Project for the Web system and provide the Project for the Web Environment URL to connect. Select your project and click Continue.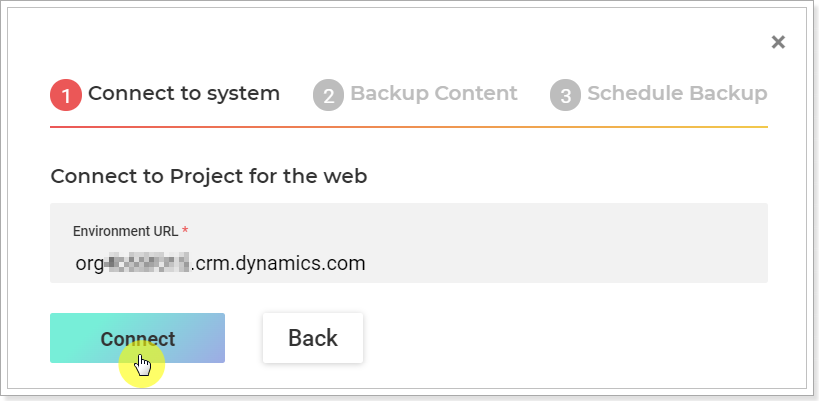 After selecting your projects for backup, click Next. Another option is to click Selected and choose specific projects for backups.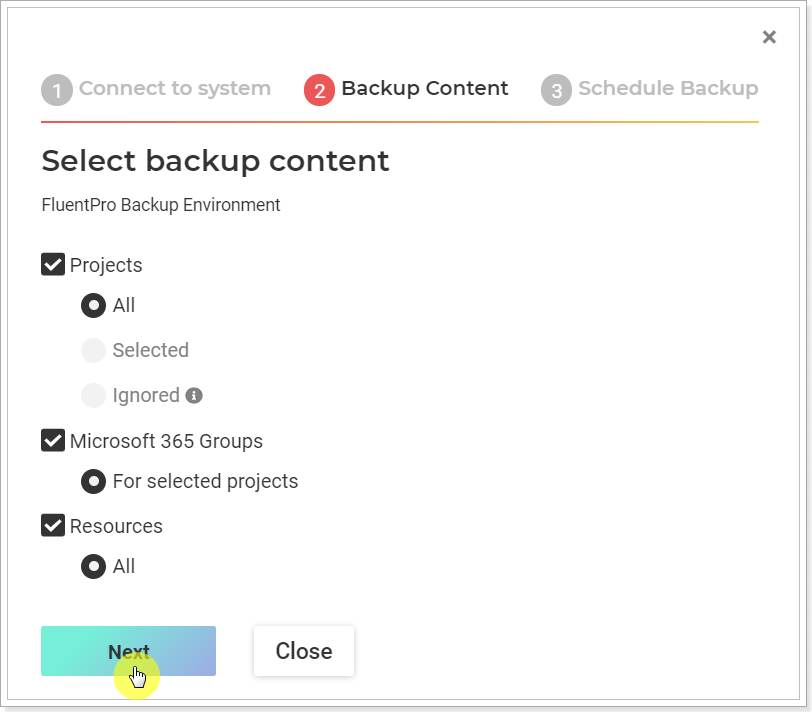 From the list of available projects, select the ones you would like to back up. Click on the column names to filter the project list. Once you've completed your selection, click Add Selected.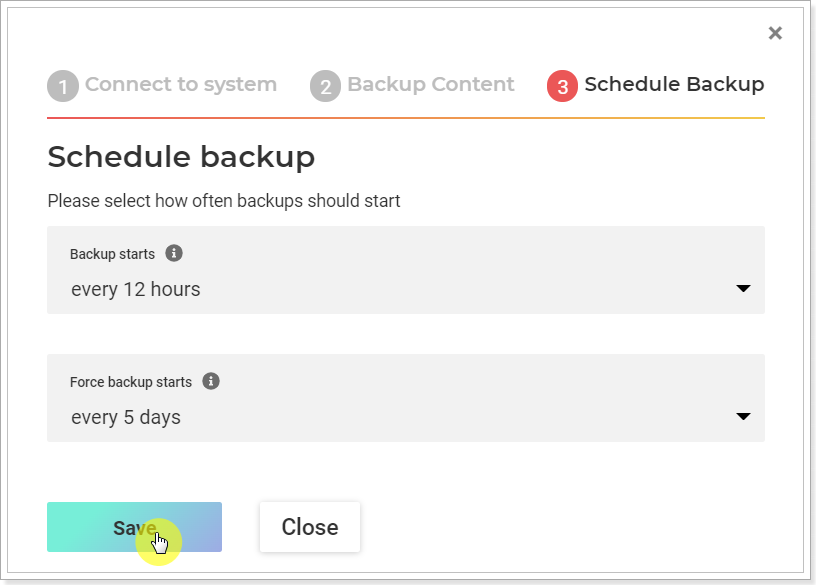 Now you can choose how often you want to perform backups. Once you have selected your desired backup schedule, click Save to create your first backup schedule. Track the progress and status of your backup on the Operation Details page.
How to restore a backup copy of your Environment
If required, the data can be easily restored. Navigate to FluentPro Backup and click on the title of the Environment you need to restore.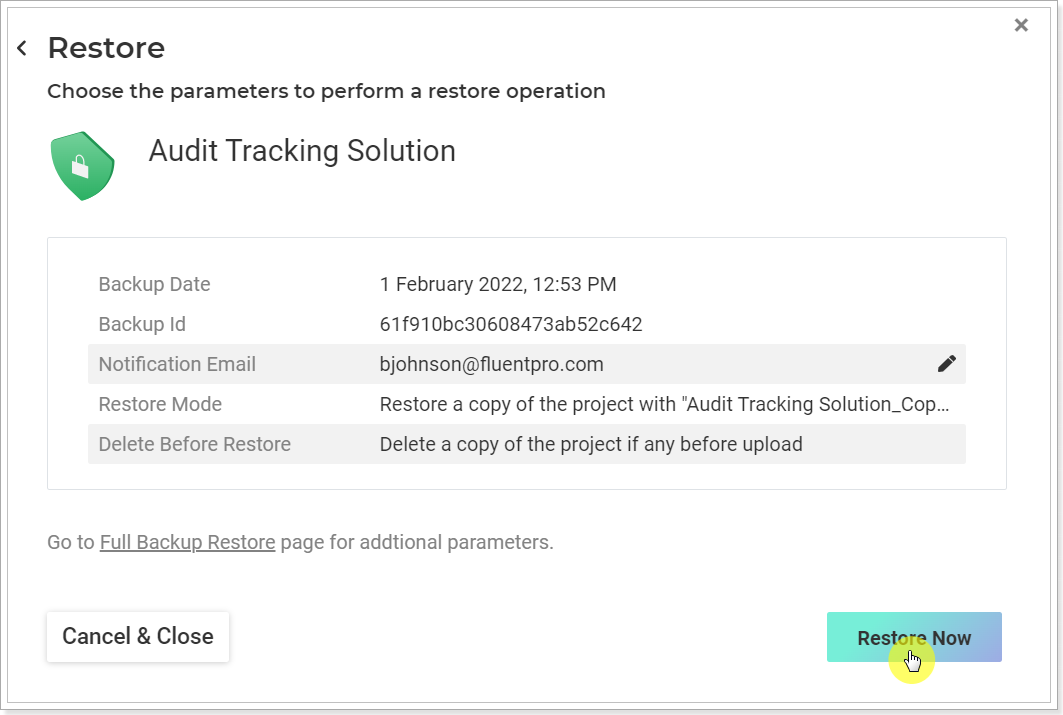 You will see all the backup copies made for your Environment.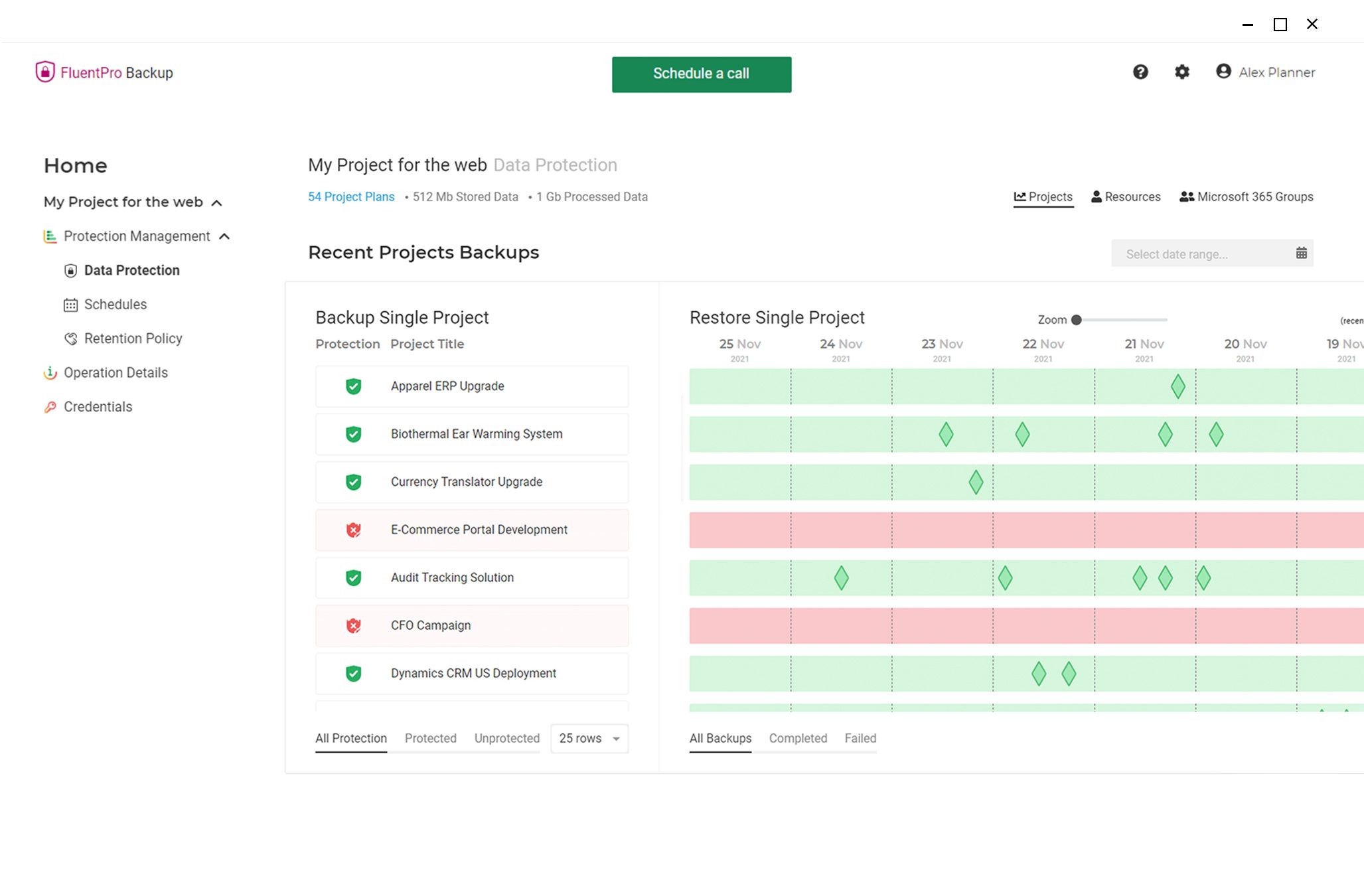 Select the backup copy you would like to restore and click Restore Now to start the process. You will receive an email notification once the process is complete.

Benefits of Project for the Web backup
Reduces risks of data loss.
Eliminates costs and emergencies related to human errors.
Offers complete security of all data in project management systems.
Provides automated continuous backup.
Carries an automated point-in-time version recovery.
Requires minimum support and maintenance with full automation.
Contact the FluentPro team to protect your Project for the Web data
FluentPro is a team of professionals in Microsoft PPM solutions. We help automate data backup and protect against human errors and associated data loss. FluentPro cloud backup solutions offer efficient recovery and restore capabilities. Join the hundreds of PMOs who rely on FluentPro to guide their transition from manual to automated Project for the Web data backup.
Request a trial today
to protect Microsoft Project for the Web
Request trial