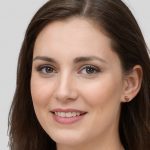 Elena Humeniuk
PPM Consultant
FluentPro FluentBooks is a migration and configuration management software for Microsoft Project Server and Project Online. The desktop application is designed to help administrators perform configuration management, data administration, Microsoft Project Server migration, Microsoft Project Online migration, SharePoint migration, and more.
FluentBooks: Features
FluentBooks allows you to migrate
from one Project Server or Project Online instance to another instance
from Project Server to Project Online
from Project Online to Project Server
project sites and SharePoint content
FluentBooks manages all your Office 365 and cross-platform migration-related tasks and supports your advanced administration needs. Besides data migration, it also supports administration change management.
Other notable features of FluentBooks include
data comparisons
data bulk edits
advanced configuration comparisons between PWAs
single element selection/migration
documentation of Project Server and Microsoft Project Online configuration
publishing projects in bulk
configuration audit
FluentBooks gives organizations multiple benefits, such as
Full/selective migration
Reduces the need for manual work
Eliminates errors and omissions
Helps advanced PWA administration
Saves 70% of the time for migration and configuration management
FluentBooks Alternatives
Besides FluentBooks, several other options offer similar features for MS Project Online migration, MS Project Server migration, and migrating SharePoint site to another site. These include ShareGate, ProjectSolution, The Project Group (TPG), and CollabIT.
Let's look at how these alternatives stack up against one another.
Alternative #1: ShareGate
ShareGate is a Microsoft 365 management software that aims to help IT professionals with MS Teams, SharePoint, Office 365 optimization, and migration.
ShareGate offers plenty of valuable features.
SharePoint and Teams migration with no data limit.
Built-in and custom reports, including usage statistics and any issues that need to be addressed.
Use automated workflows to help clean up, manage, and govern your tenant without using PowerShell.
The Teams chatbot from ShareGate automates interactions with owners to collect missing data on your behalf.
Granular visibility and permissions control guarantee that the appropriate individuals have the proper access and protect sensitive data.
Besides SharePoint, ShareGate also helps with MS Teams migration by copying conversation history, public channels, team settings, files, permissions, membership, apps, tabs, customization, and more.
ShareGate's user mapping at the destination helps control access and permissions and review and fix errors that could have happened during your migration.
ShareGate has a steep learning curve and comparatively lower intuitiveness than competitors. Moreover, it is plagued by longer migration times.
Alternative #2: ProjectSolution
With over 15 years of experience, ProjectSolution offers different technical support packages to serve an organization's project management and administration needs.
ProjectSolution helps with migration, templates, resource data, attribute mappings, and complete server configuration from Project Server to Project Online.
You can also get help with migration for SharePoint, MS Project Server, and Project Online and get training and consultancy services from ProjectSolution.
Alternative #3: The Project Group
The Project Group or TPG is a global IT solution and consulting services provider with over 20 years of experience. TPG provides migration between Microsoft Project Server versions or helps migrate Project Server to Project Online.
It completes the migration process in 7 phases:
Planning
Analysis
Setup
Test migration
Pilot migration
Production migration
Operation
TPG guarantees data quality and the most efficient migration completion with a structured implementation process in mind.
Alternative #4: CollabIT
CollabIT is another SaaS platform that offers SharePoint development and consulting, Microsoft 365 solutions, MS Project Server tool implementation, etc. It provides upgrade between different versions of Microsoft Project Server. Version changes, data & functionality migration are available at CollabIT.
FluentBooks Alternatives: Comparison
Being introduced to some FluentBooks Alternatives, we now draw up a comparison between the different solutions and their respective offerings: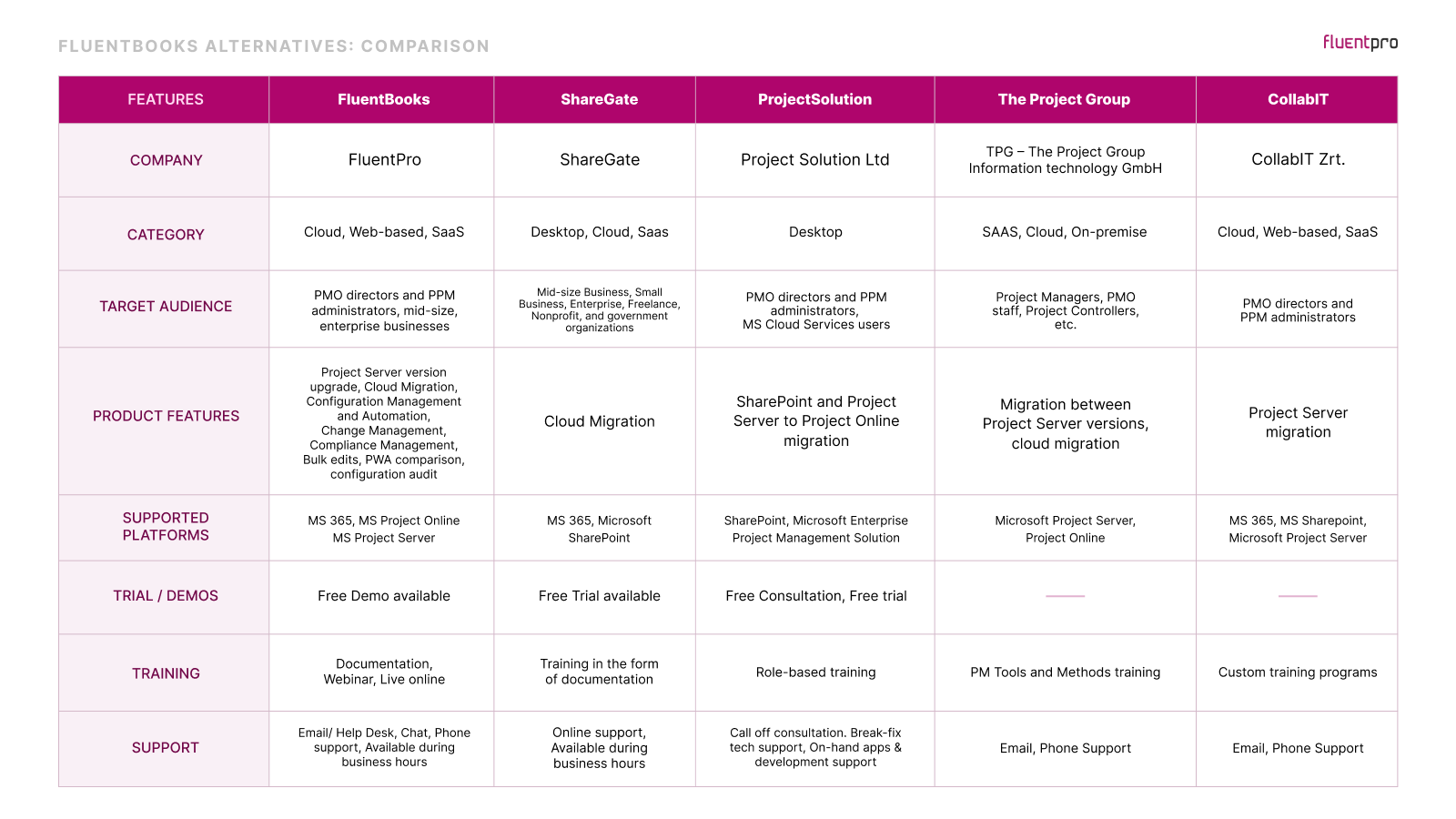 Conclusion
The heavily data-driven nature of businesses and organizations today makes data migration a critical activity. To ensure your data security and complete the migration process as efficiently as possible, it's vital to pick the right software for your needs.
Solutions like FluentBooks and its alternatives can help your organization save time, improve productivity, and ensure smooth data migration. But with so many options available in the market, picking the right tool is easier said than done.
Finally, the best tool is the one that meets the specific needs of your organization, considering your budget, the scale of operations, and the reason to migrate.
Request a quick demo or quote
by filling out the Contact Us form
Contact us