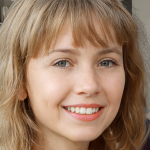 Valeriia Sitolenko
PPM Consultant
Reading Time:
5
minutes
PMOs constantly seek ways to streamline processes, enhance collaboration, and optimize resource utilization. 
Microsoft, a technology giant renowned for its innovative solutions, offers two powerful project portfolio management tools:  
Project Online

as a Microsoft project portfolio management platform.

 

Project for the Web

as an easy-to-use project management tool.

 
As businesses navigate the complexities of modern project portfolio management, they must determine whether these two solutions are better together or stand alone as distinct offerings.  
This article dives into potential synergies and covers the fundamentals of both tools. 
Overview of Microsoft Project Online and Project for the Web
Microsoft Project Online:

A cloud-based tool within Microsoft 365 that extends the traditional desktop app's capabilities. It equips projects with features like Gantt charts, scheduling, resource management, cost tracking, and reporting. Project Online integration with SharePoint, Teams, and Power BI enhances collaboration and reporting.

 

Project for the Web:

A user-friendly solution emphasizing simplicity and agility. Built on the Microsoft Power Platform, it offers an intuitive interface with visual timelines, Kanban boards, and basic task management. Although it may lack some advanced features in Project for the Web portfolio, its accessibility and user-friendliness make it an excellent choice for teams looking for flexibility and a quick setup.

 
Scenarios where each tool demonstrates individual excellence
The choice of using Microsoft Project Online and Project for the Web, whether combined or alone, depends on an organization's needs.  
Each tool has unique strengths, leading to individual excellence in different scenarios:
Why it's necessary to use both tools? 
Both Microsoft's offerings have unique strengths, but using them simultaneously offers a compelling way to leverage consolidated portfolio management. 
This hybrid approach can provide a strategic advantage in various scenarios: 
Versatile project management:

Both tools accommodate diverse project sizes, from intricate enterprises to humble initiatives. 

 

Comprehensive insight:

Combining tools offers a unified portfolio bird's eye view. Project Online excels at detailed reporting, while Project for the Web dashboards provide real-time progress updates, enhancing portfolio management.

 

Optimized resource management:

Tools can streamline resource allocation. Project Online manages complex distribution, while Project for the Web handles task tracking and micro-level resource allocation.

 

Agile integration:

Blend agile methodologies with Project for the Web and Project Online. Use Project for the Web's flexibility for agile projects, relying on Project Online for comprehensive planning and resources.

 

Project for the web PPM features:

The tools fill in each other's gaps and enhance Microsoft Project for the Web portfolio and project management capabilities.

 
What limitations can occur when using separate systems?
Several limitations can hinder project management efficiency when you use Project for the Web without Project Online integration.  
These limitations stem from the lack of seamless integration and include: 
Disconnected systems:

Disconnection can lead to data silos, making it difficult to access critical project information in one centralized location.

 

Lack of a single view:

Separate systems make obtaining a unified project portfolio view challenging.

 

Inefficient resource management:

Managing resources across these systems can be cumbersome.

 

Limited collaboration:

Collaboration suffers when teams are divided across platforms.

 

Data duplication:

Maintaining data consistency becomes challenging.

 

Complex reporting:

Generating comprehensive reports across both systems can be complicated.

 
How to connect Project Online and Project for the Web to use them together
Integrating these two solutions can create a powerful synergy that addresses various project management needs.  
If you're unsure how best to implement it, rely on PPM Express by FluentPro to help.  
PPM Express is a robust solution connecting Project Online and Project for the Web into a consolidated platform. It provides a single-view dashboard, advanced reporting, and clear visibility of all project portfolio data.  
Here's a step-by-step guide on how to use both tools simultaneously to maximize their benefits: 
Define projects:

Categorize by complexity. Choose tools based on capabilities.

 

Assign roles:

Designate leads for each tool. Match project types.

 

Project Online for complexity:

Choose Project Online for detailed planning, resources, and dependencies visualization.

 

Project for the Web for agility:

Use Web's Kanban and timelines for smaller projects.

 

Integration points:

Sync tools for updates and resource allocation using PPM Express.

 

Monitor and share:

Use PPM Express for insights and real-time updates.

 

Boost collaboration:

Utilize pre-built Power BI reports sharing for quick communication.

 

Review and adapt:

Assess the results regularly and adjust as needed.

 

Train and support:

Ensure effective tool use with training.

 

Continual improvement:

Refine over time for optimal outcomes.

 
Taking your project portfolio management to the next level with PPM Express
While Microsoft Project Online and Project for the Web offer powerful project and portfolio management solutions, enhancing your capabilities is possible by integrating PPM Express by FluentPro.  
Advanced features of PPM Express as an MS Project connector: 
Unified project portfolio management:

PPM Express provides a centralized platform to manage, track, and report on projects from Microsoft Project Online and Microsoft Project for the Web.

 

Enhanced reporting and analytics:

PPM Express offers advanced reporting and analytics capabilities with 200+ predefined Power BI reports beyond the built-in features of Project Online and Project for the Web. 

 

Resource management:

PPM Express improves resource management by helping you allocate and balance resources, ensuring optimal use and preventing overloads.

 

Easy-to-deploy:

PPM Express provides a straightforward and stress-free out-of-box deployment process, ensuring a smooth experience for your team with minimal stress.

 
In addition to Project Online and Project for the Web, FluentPro PPM Express can connect other work management tools like: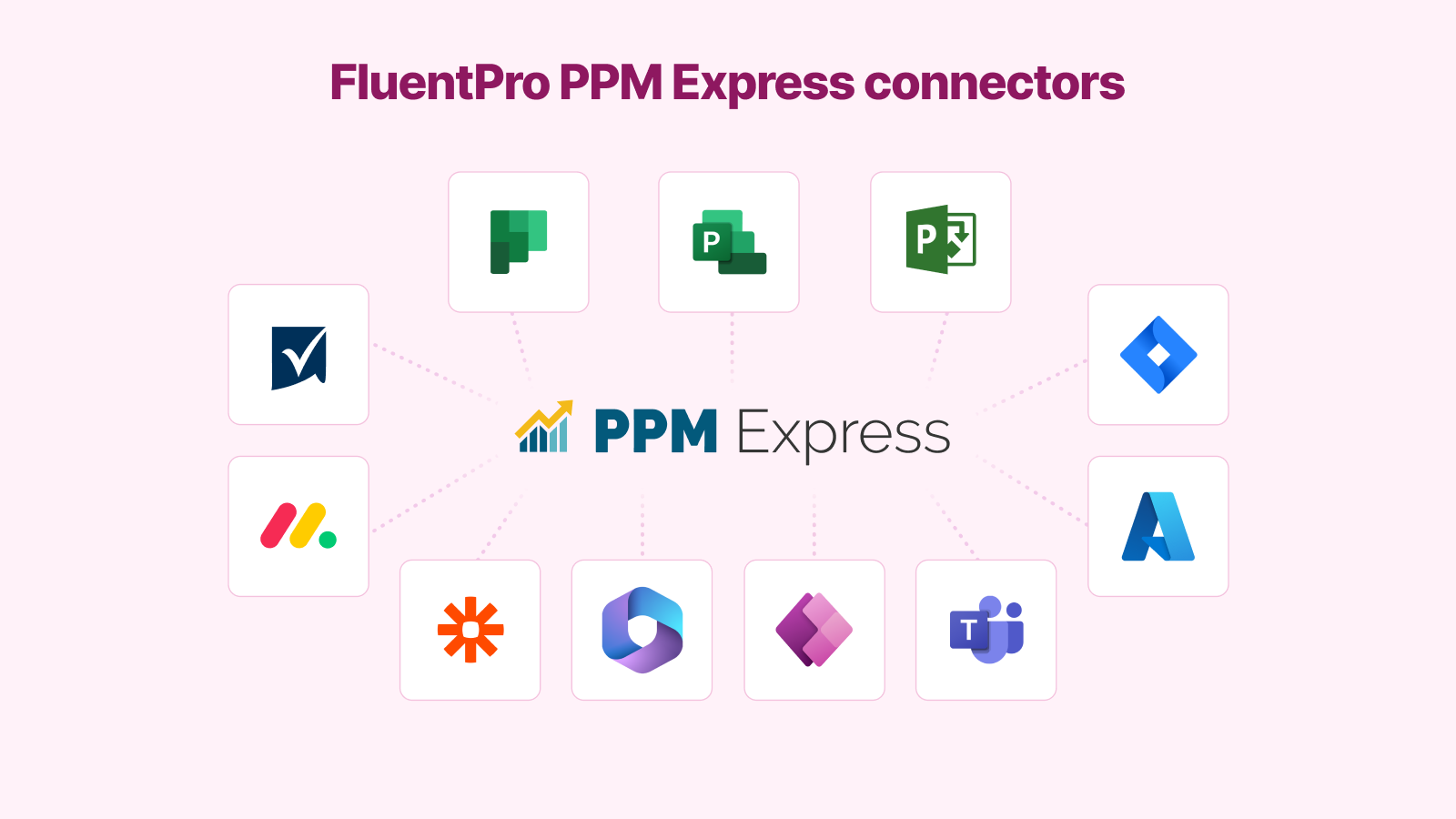 Here's a comparison table illustrating the differences between using Project Online and Project for the Web together versus using them with PPM Express: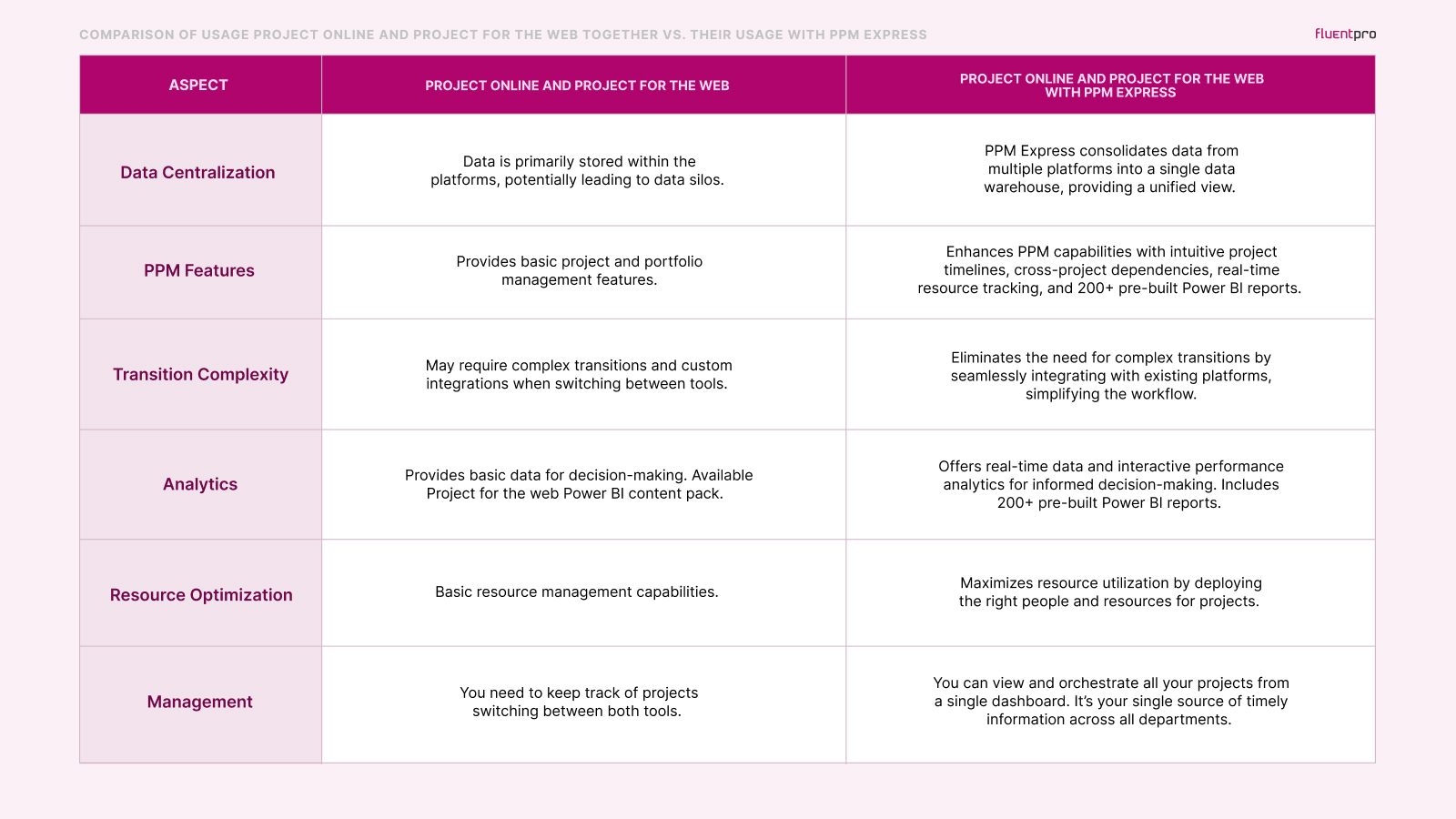 Immense benefits of FluentPro PPM Express
Using PPM Express for connecting Project Online and Project for the Web can bring valuable benefits to your organization: 
Big Picture View:

Consolidated view across tools and departments.

 

Modern Methodology:

Manage hybrid projects.

 

Streamlined Resource Planning:

Plan capacity across tools and projects.

 

Create Innovation Culture:

Ideation and Innovation Management.

 

Executive Analytics and BI:

200+ reports in Power BI.

 

PMO Data Lake:

Analyse all PPM data at scale and apply historical analysis and predictive analytics.

 

Ultimate Flexibility:

Use any project management software tool.

 
Unlock the full potential of Microsoft Project Online and Project for the Web by integrating them with PPM Express. Seamlessly combine the strengths of these tools to achieve unparalleled project visibility, collaboration, and control.  
Take the first step towards enhanced project portfolio management with PPM Express by FluentPro. 
Schedule a quick call
to reap PPM Express benefits today 
Schedule