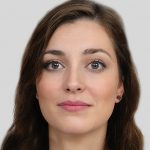 Anna Shalomova
PPM Consultant
Business Intelligence systems, including Power BI, are tools for top management, PMs, and department heads. They allow you to have a complete picture of the current situation in any business unit. Power BI is a comprehensive and robust Business Intelligence system by Microsoft which helps business users with little or no experience in software development build insightful dashboards and get the most out of enterprise data. Power BI can help project managers see the bigger picture and track projects more effectively, get rid of manual reporting, and spend more time with their teams. 
How to Work with Project Online in Power BI Reports
Microsoft Project Online is a flexible online solution for project portfolio management (PPM) and everyday work. Project Online, delivered through O365, enables organizations to get started, prioritize project portfolio investments, and deliver the intended business value. The Power BI Microsoft Project Online Content Pack allows you to explore your project data with out-of-box metrics such as overdue projects or a burndown of current project work. 
Start loading the content pack by connecting your Project Online Power BI accounts. Once the content pack is loaded, you can begin interacting with any of the outs of box content, such as the dashboard and reports, or asking a question about your data. Clicking on the tiles will drill into the four pages of reports built on top of the data set. The top left tile shows a breakdown of work by project, and selecting the tile will bring you to the Portfolio Status report. You can hover over any of the visualizations to see additional details about that specific data point. You can also leverage the filters in the report by opening the filter pane on the right.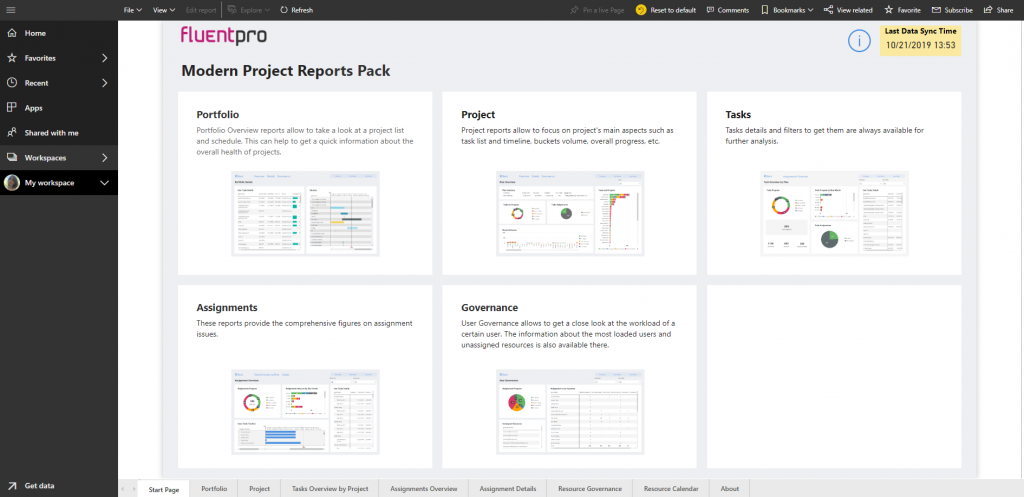 Navigate between the report pages using the named tabs at the bottom. PMs can also switch to Edit Mode to view all the tables and fields that are included in the dataset. For example, on the Risk pages, you can add filters, rearrange or modify existing visuals, and create new visualizations. The highlighted tables in the Fields list show where the fields come for a specific visual. 
After you initially import the data, Microsoft Project dashboard, reports, and data set will continue to update daily. You can control the refresh schedule on the data set as well. The Project Online content pack for Power BI helps you monitor and explore your project data with an initial set of metrics and reports that can be customized for your scenario. 
Real-time Dashboards on Streaming Data in Power BI
We frequently come across real-time or streaming data in our daily lives. It is so ubiquitous that we don't even realize that the processes we are interacting with are generating real-time data, e.g., our activities on e-commerce websites or body vitals measured by wearables. Real-time data need to be streamed before using it, much like we stream movies from Netflix. Streaming is needed for downstream analytics on real-time data. There are streaming applications like Kafka, EventHub, Spark Streaming, etc. They do this job – to stream data in real-time between producers and consumers of IoT data. We will discuss them in detail later in the article. Streaming data generally have high volume and velocity. Some of the popular examples and sources of real-time data are as follows: 
Data generated by IoT sensors measuring pressure, temperature, and acceleration recording every milli-seconds or faster.

 

Real-time project updates

.

 

Stream of various website data

.

 

Stock market ticker data is getting updated at a high frequency.

 

Retail bank transactions, including funds transfer, OTP transfer/receipt, etc.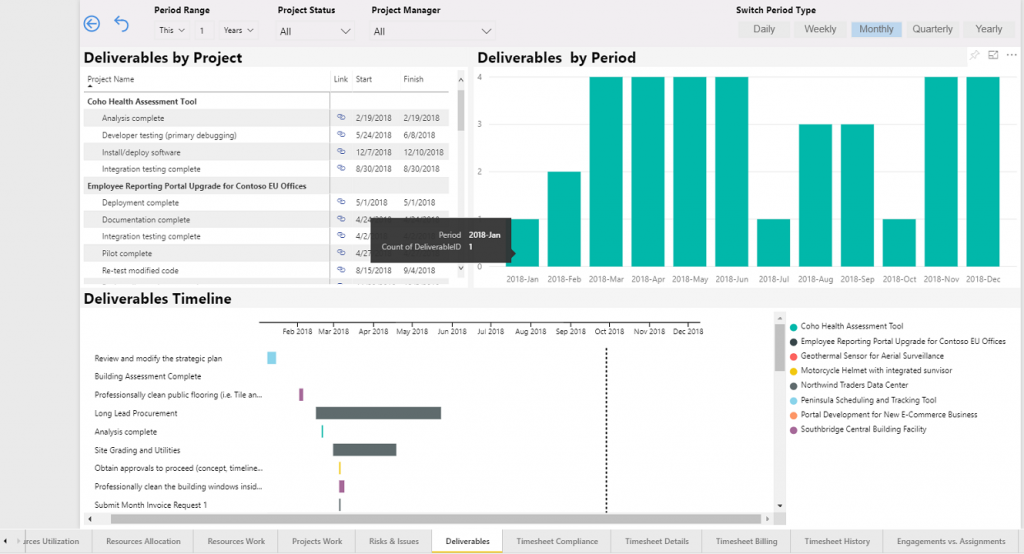 A real-time dashboard contains visualizations that are updated in real-time with the change in data. These dashboards provide information that is useful for identifying emerging trends and monitoring efficiency. Real-time dashboards usually contain data that is time-dependent. One of the most common applications is deploying just-in-time inventory management. Companies that prefer minimal warehousing require constant real-time data about current in-store levels, sales, and how quickly they can be replenished. Another application is real-time alarms and preventive maintenance of equipment in the manufacturing and oil and gas industries. This is done by multivariate outlier detection methods like Mahalanobis distance, time-series classification methods like Shapelets, and time-based regression methods like survival analysis. 
How Microsoft Power BI Makes Project Management Easier?
Data Modelling

is the feature in Power BI that gives you the capability to connect to multiple data sources. You can combine them to create a unique model of data collection

 and further management that suits your needs. In other words, it is the process

 of

 turning your data streams into something more useful than just raw data. Power BI has a revolutionary engine called Power Pivot. Once you learn how to use it, you can update your LinkedIn page to the status of 

"

Data Wizard

."

And we can help you with that and become Power BI project management expert.

 

Data Acquisition:

  Power BI data acquisition method, in a word, is

"

data import vs

.

 live connections

."

 It is used across Power BI product offerings: Power BI Desktop, Power BI Service, Power BI Report Server, and Power BI Mobile. The process of fetching your data from 

wherever

 it 

"

lives

,"

 importing it into Power BI

,

 and then cleaning and shaping it to meet your needs. 

 

Data Visualization

 is 

an 

imperative skill for Power BI projects users. When you

'

ve loaded the data into the system and have the database designed 

following

 your business needs, you need to visualize the data for more clarity and further usage. 

 

Getting a Power BI Consultant

 to help you build skills in all these areas can make you go faster and make 

fewer

 mistakes along the way.  If you are interested 

in finding

out more about Microsoft Power BI connection, adoption, customization, and more, you can contact us anytime.

 
Power BI Consulting by FluentPro
Power BI is a Microsoft product that brings the power of enterprise business intelligence and the strength of data analytics to business analysts. We've gathered a team to provide training and consulting in Microsoft Power Business Intelligence tools. Our main goal is to help you transform organizational data into business intelligence that translates into better business results. We have extensive experience in:
organizational implementations of Power BI

the creation of reports

panels of 

the 

last generation

automation of ETL processes

complex data modeling

advanced DAX calculations

customized visualizations.

 
Benefits of getting help from professionals
Individual approach to each client, 

n

 matter the size or the industry of your enterprise

 

Advanced customization that is tailor

–

made for your team and its

 needs

 

Personal approach to the key people in the organization that want to get started with Power BI.  

 

Availability of the service from anywhere in the world.

 

Deliver training to the key Power BI business users so they can learn the skills needed to be successful.

 
Power BI is a complete tool for any competent business analyst. One of the challenges of adopting Power BI project lies in its complexity. Absorbing many new features and functions the system has, might be time–consuming for all the employees in your team. Or even hard to get started at the same pace for each team member. It is not that they can't do it; it is just that it would get you up to speed much faster with a little help.  
This is where FluentPro comes in. FluentPro's Power BI Consulting team specializes in consulting across the product suite, including MS Project Power BI adoption, customized reports, implementation, etc. There are many ways you can leverage our skills, knowledge, and experience. The superiority of our approach is in revolutionizing the ease of access for the average business user. You no longer need to be a full-time IT professional to build reporting and analytics tools. Our consulting specialists with vast experience in the adoption and customization of Microsoft tools for business will help you overcome any challenges on the way to your business goals. 
Schedule a free consultation
to get help with Power BI today
Contact us