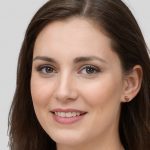 Elena Humeniuk
PPM Consultant
Reading Time:
4
minutes
Working in Microsoft Project Online, many modern organizations use project data protection and SharePoint backup solutions to run their operations smoothly. But for project managers, it's essential to know what is happening with data on these tools. Operational information is vital for effective management. PMO directors need to spot possible gaps and prepare for data security and protection.
Data Loss Happens When Organizations Lack Full-proof Data Protection Solutions
In the 21st-century method, successful organizations must process millions of data daily. Specialized project management systems enable companies to process, transfer, and all this data. However, these systems don't provide full-proof data protection for the following situations:
Loss of data. Project management systems like Microsoft Project Online are vulnerable to data loss on multiple fronts. Human mistakes and negligence, such as inadvertently deleting vital information, are a daily reality for project managers.
Tainted integrity. When a company's data is lost, its integrity—its capacity to reliably process, record, store, retrieve, and communicate information with teams and stakeholders—is compromised
Economic losses. While your data integrity problems persist, you will experience significant project downtime, unorganized investment portfolios, financial and productivity loss, and a poor return on investment.
Considering these circumstances, PMO directors must invest in Project Online backup and restoration solutions that encourage data integrity and ensure that data is accessible and reversible across the whole enterprise.
Backup All Your Data Securely
FluentPro G.A. Suite is a unique Microsoft Project Online backup and restoration solution that can perform automated PWA backup on-demand or by schedule.
Users can create a backup schedule from the G.A. Suite homepage by choosing "Protection Management" and selecting the schedule choices. The "New Scheduling Profile" button permits the creation of a new backup schedule. Once the user has provided a "Title" and "Description" for the backup schedule, selecting the "Enable" option activates the backup profile. Options to set Daily, Weekly, and Monthly backup schedules are also available if the appropriate "Time Zone" is selected.
When data loss happens, organizations can restore projects from a backup copy automatically.
FluentPro G.A. Suite Power BI Pack, a free addon included in your FluentPro G.A. Suite license, is a unique solution providing detailed information on your G.A. Suite account usage. Companies can identify and analyze possible issues that threaten data security and project performance.
G.A. Suite Power BI Pack comes with excellent features that guarantee ease of use, such as:
A Usage Summary report showing all G.A. Suite usage.
The License limit section shows you the current limit of the license.
A detailed report on every action performed by G.A. Suite on the organizational tenant can be found in the Lower report section.
Project backup coverage allows you to locate active and non-active projects not added to the backups on your G.A. Suite PWAs account. This option also enables you to view and manage projects with no backups and projects with different issues.
The heatmap on the Project backup coverage gives detailed statistics on the success or unsuccessful actions carried out on each project, allowing project managers to make informed decisions.
A SharePoint sites backup coverage option to locate SharePoint sites that are not backed up or that have issues.
The G.A. Suite Power BI Pack allows you to view all Project Online backup and restoration activities in your account.
Get Automated Protection for Your Data
Organizations that neglect SharePoint backup solutions are at risk of incurring substantial expenses and productivity losses, which is why you must be one step ahead. The inability to access a complete and detailed data analysis can expose your projects to sudden interruptions. With G.A. Suite Power BI Pack, you get reliable project protection and access to detailed information on your Project Online backup activities.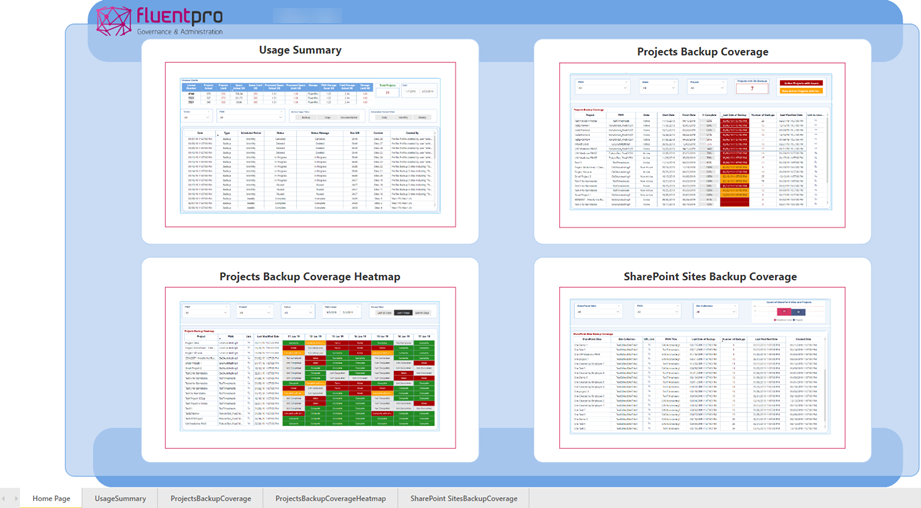 Project backup coverage report features active and not active projects not included in PWAs backups. Projects with no backup counter displays the total amount of projects not included in any backup. Projects with issues filter help to overview projects without backup at all or not backed up for over 7 days. This report can be filtered by PWA, Project State, and specific Project.

SharePoint sites coverage report helps to overview sites in the connected Site Collections which are not included in any backup. It can be filtered by Site Collection, specific SharePoint sites, or specific Project. SharePoint sites with issues filter reflects sites without any backup or not backed for over 7 days.

Profit from Unparalleled Data Analysis and Project Backup
Choosing FluentPro G.A. Suite as your Microsoft Project Online backup and restoration solution brings undeniable benefits:
You are guaranteed a reliable backup and restoration solution for your most vital project data.
Automated backup and restoration.
Reduction of data loss or other risks related to human errors.
Elimination of productivity and financial losses.
If your team experiences one or more errors with crucial data, you'll have nothing to worry about, knowing that you can rapidly retrieve it at any time.
Adding G.A. Suite Power BI Pack to your toolset unlocks even more benefits:
You get a reliable and detailed data analysis that guarantees informed decision-making.
Details reports on your Project Online backup and restoration activities.
FluentPro G.A. Suite Power BI Pack guarantees analysis of solution usage.
Schedule a free assessment
to find out how FluentPro can help your business
Contact us