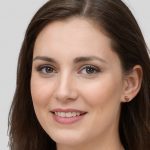 Elena Humeniuk
PPM Consultant
Companies nowadays gather and generate massive volumes of data. As you can imagine, managing sensitive information in Microsoft Project Online is crucial. Human errors can happen at any time and are the primary cause of data loss.
Every business needs a dependable data backup and recovery solution for its projects to endure or even grow in the face of unforeseen events. This is where Project Online backup and restore comes in.
Why Data Is Important
Data helps you understand and improve company processes, allowing you to save money and time.
By adequately leveraging data, your business can provide better customer service, improve operational and financial performance, and make smarter data-driven decisions.
Importance of Data Backup and Recovery
Data, especially for implementing projects, is likely essential to your company's operations, irrespective of size. As such, it is necessary to protect your project data adequately.
Business continuity depends on data security, and enterprise data backups are critical to that strategy. Data backups ensure that you always have a complete copy of your project portfolio available for restoration.
Performing manual work may lead to data damage. In such cases, having data backup and recovery helps you to save important information and continue work.
Moreover, data can often be lost due to human error. It is common to put wrong information into cells and delete entire project datasets by mistake. As a result, your project data can be compromised, hampering your business' workflow or even costing you money. Having access to backups is crucial to ensure you can correct errors.
Project Online Needs Protection
Whatever projects you manage – internal or external, product or service delivery – project backup must be a routine part of your daily operations. Otherwise, your projects risk data loss, corruption, or human error.
According to the poll on disaster recovery experiences with Microsoft Project Online, most businesses have a disaster recovery solution. Still, only 5% have a disaster recovery solution or procedures for Project Online backup.
Microsoft backup software is now mandatory for businesses that use Project Online. According to 65% of respondents in the poll, restoring data might take up to 8 hours per project. Because downtime is so costly, frequent administrative backups should become standard practice.
Anxieties About Microsoft Project Online Backup
PMOs and IT Administrators often come across the following risks and problems when taking steps to secure data and defend business:
Protection
PMOs often try to avoid the danger of data loss, for which they are unwilling to incorporate Microsoft Project Online backup. They tend to think backups can corrupt or delete their current datasets, which may hamper their progress instead of boosting it.
Effort
Automating the backup and administration process may seem difficult to PMOs due to inadequate knowledge and expertise, which may dissuade them from implementing the project backup tool.
Security
PMOs often feel skeptical about using backup as they are unaware of how to restore corrupted data. As a result, they may think that setting up MS Project Online Backup does not offer added security.
Management
Changing management methods to make them quick and straightforward requires time and trial and error, which PMOs can find challenging to implement. Integrating Project Online backup and training employees may hamper workflow, too.
FluentPro: Your Backup Partner for Microsoft Project Online
FluentPro G.A. Suite fully automates data protection and administration of Microsoft Project Online. G.A. Suite provides complete business data backup, project restore, and archiving capabilities for Microsoft Project Online.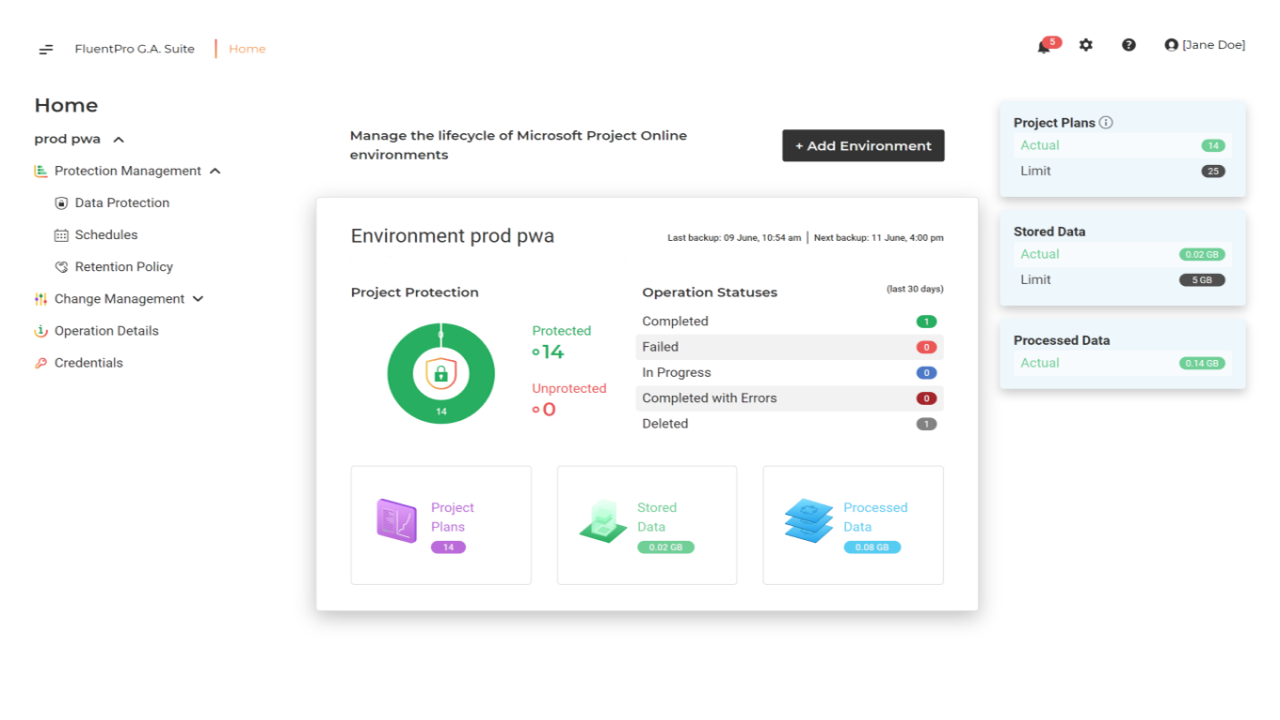 Why Choose To Backup Data with FluentPro?
G.A. Suite protects Project Online by lowering the risk of data loss and other threats. In addition, the solution provides scheduled or on-demand backup for all project data or just selected pieces. You can also make a backup plan for your projects and SharePoint sites.
Moreover, you can recover damaged data from a backup copy when any accidental deletion happens or if projects get lost.
Offering automated Project Online backup and disaster recovery, FluentPro G.A. Suite reduces any risks of data, productivity, or financial losses.
Benefits of Using G.A. Suite
With over a decade of experience in simplifying Microsoft PPM solutions usage, FluentPro guarantees advanced protection for Microsoft Project Online. Organizations that use G.A. Suite to secure their projects enjoy significant benefits, including:
Reduction of any risks related to human errors or data loss
Fully automated backup and disaster recovery
Secure storage of all project data
No downtime and productivity loss
No extra costs
Reliable data protection – high ROI
Conclusion
Microsoft Project Online data backup and restore gives you, your workers, and your customers peace of mind. Protect your credibility, improve your reputation, and safeguard your data and information. Even if you lose your data, you may quickly restore it and continue your business.
With automated backup and disaster recovery software, your projects are under control, secure, and encrypted. Moreover, FluentPro G.A. Suite gives reliable protection for your Microsoft Projects and SharePoint sites.
Schedule a quick demo to see how G.A. Suite works
Contact us