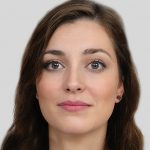 Anna Shalomova
PPM Consultant
Reading Time:
3
minutes
The FluentPro team has designed Integration Hub to have your business data flow smoothly and efficiently across the portfolio, project, and work management platforms and have a unified portfolio view of all project-related activities. As a result, Integration Hub helps coordinate and integrate processes across teams, improve cost and schedule performance, and bring your business to a new maturity level.
Being an extensible Microsoft Azure SaaS platform, FluentPro Integration Hub supports connectors to multiple platforms. In this post, we'll cover the integration scenario between Atlassian Jira and Microsoft Project Online.
Project Online + Jira
In this scenario, project managers use Microsoft Project Online to create and maintain project schedules and for portfolio management, portfolio analysis, and prioritization. At the same time, development teams keep their product backlog and alliterations, user stories, and tasks in Atlassian Jira.
Therefore, there's a requirement to integrate project plans with projects in JIRA for automated updates and thus eliminate the need for development teams to use Microsoft Project Online for progress reporting. Both project managers and development teams need close-to-real-time updates on project tasks. Finally, teams need to be updated on the prioritized projects, and relevant tasks need to be displayed in JIRA.
The Project Online and Jira integration scenario is a two-way synchronization of Project Online project tasks with Jira issues. During the sync, a Jira issue with the defined type and workflow stage is being transformed into a newly-created project in a Project Online instance. At the same time, a project with the defined project type is created automatically in Project Online once the predefined Jira issue type and Jira issue status are matched for the created issue in Jira.
Both platforms' fields are mapped in the following manner: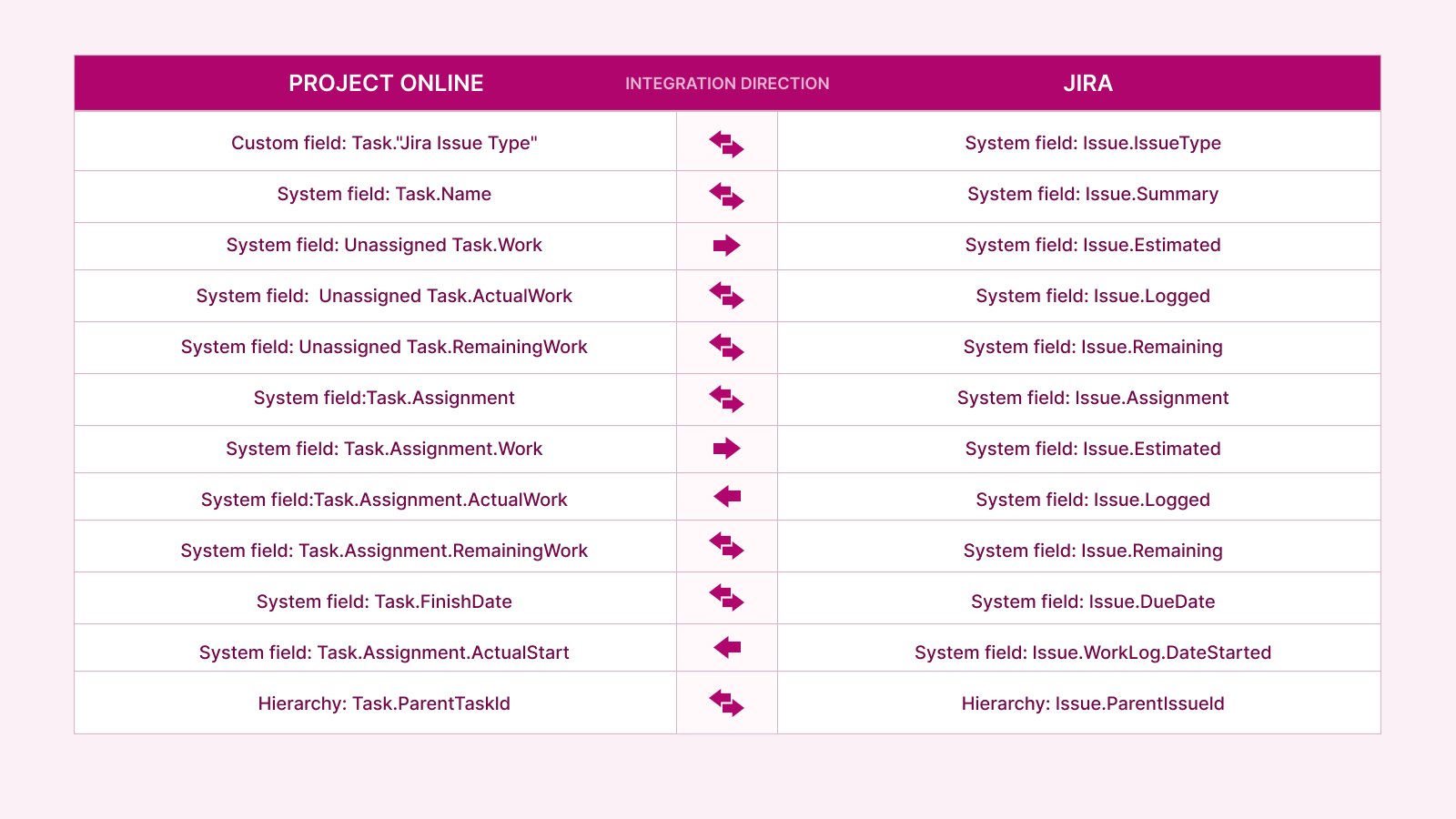 How to Start Using the Integration Hub
Step 1 – Verify "Integration Prerequisites" listed below and install the "Integration Hub" add-on from the Atlassian Marketplace for JIRA.
Step 2 – Configure both Project Online and Jira to work with Integration Hub.
Step 3 – Use Integration Hub for scheduled synchronizations between your environments.
Integration Prerequisites
For Project Online, the following custom fields should exist in the PWA:
Project level text custom field with the name Jira Project – this field defines the name of the destination project in Jira. If the project name is not provided, the destination project will be chosen by the name equal to the project name in Project Online.
Task level flag custom field with Sync to Jira – defines whether a project task should be synchronized with a Jira issue.
Task level text custom field Jira Issue Type with a lookup table – it determines the Jira issue type ('Story,' 'Epic,' 'New Feature,' 'Task,' 'Sub-task,' 'Bug,' 'Improvement'). If the value is not provided, the "Task" or "Sub-task" issue type will be used accordingly.
For Jira, integration prerequisites are:
Custom field with the name Sync to PO should exist in Jira – it identifies whether a Jira issue should be synchronized with a Project Online project task.
Jira legacy mode – must be disabled.
For Jira on-premise – Integration Hub can be compatible with Jira on-premise if Jira is accessible from the Internet. Since the Jira app (add-on) works only with Jira Cloud, you will need to use the SharePoint App.
Benefits and Value
Integrating Project Online and Jira helps project managers see all the updates immediately after synchronization, and development teams receive their new tasks and updates instantly. This eliminates the need to have as many project meetings as previously and allows everyone to perform tasks without delays and improve the work focus.
Contact FluentPro sales team
for more details or a demo
Contact us