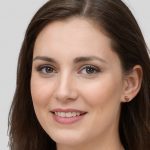 Elena Humeniuk
PPM Consultant
Reading Time:
3
minutes
Organizations collect massive amounts of data in project management systems and then use them to make intelligent decisions. For example, Microsoft Planner allows you to plan and execute projects seamlessly based on organizational data. It provides visibility into teams' operations, deadlines, categorization, and prioritization of tasks. The effectiveness of groups and teams in achieving their objectives relies heavily on the timely availability of relevant data. As a result, IT administrators must ensure that Microsoft Planner data is safe and always accessible. This is precisely what FluentPro's Microsoft Planner backup guarantees.
Key challenges
While organizations seek uninterrupted data availability for effective decision-making, they often face significant challenges in their work. This is especially true when using project management software, such as Microsoft Planner, for business operations. Human error seems to be the primary cause of IT administrators' complexities while using Microsoft Planner. Some of the issues that IT administrators encounter are as follows:
Human error. Undoubtedly, flawed data caused by human mistakes may substantially impact project team performance.
Data loss. This may also be due to human error. The loss of such information makes it harder for teams to achieve their objectives. It is difficult for IT administrators to rescue the situation and ensure that teams fulfill their purposes.
Productivity loss and stalled projects. When losing mission-critical information, teams can't keep working on their projects. It results in missed deadlines, delayed projects, and decreased productivity.
Financial loss. Stalled projects and lost data always lead to reduced profit. Losing customers' sensitive information can even result in negligence claims. 
The top experts understand the real issue
Given these difficulties, IT administrators prefer a data protection solution that can be attained through backup systems. This allows teams to obtain relevant data and proceed with their mission rapidly. It is upsetting (and costly) to lose data and have no effective means to recover it.
FluentPro's team has created a robust Microsoft Planner backup and restore solution to prevent such devastating situations. It offers efficient Microsoft Planner backup to save you unnecessary hassles.
An ideal way to backup Microsoft Planner
FluentPro Backup is a cloud-hosted platform providing continuous automated backup and restore for Microsoft Planner. Furthermore, all MS Planner backup data is encrypted to ensure privacy. The solution is powered by Microsoft Azure, which is dependable, robust, and secure. Therefore, the system provides reliable data backup and restoration.
Your organizations can use FluentPro Backup for Microsoft Planner in the following ways:
Back up all resources, boards, tasks, workspaces, and users
Perform full or partial backup
Restore your project data whenever you need it
Create a backup plan
Perform an on-demand and scheduled backup
Backup runs within a scheduled frequency automatically and creates project copies
Recover damaged data from a point-in-time backup copy
These qualities are crucial to your business. FluentPro Backup for Office 365 Planner eliminates the risk of losing valuable Microsoft Planner data due to human errors.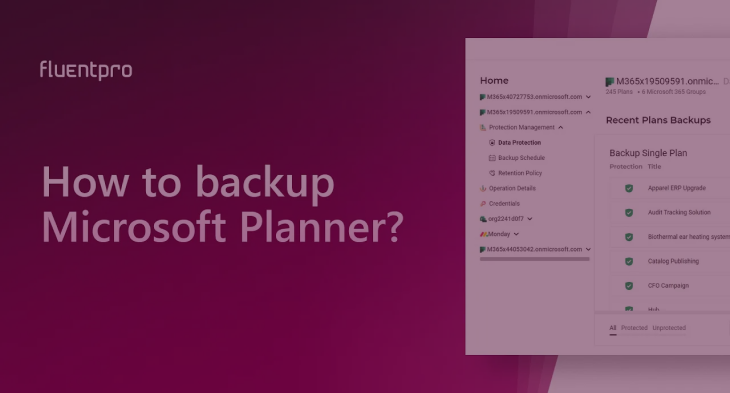 Contact us for the best Microsoft Planner backup and restore
As you can see, data loss may be problematic for organizations. Human errors can cause damage like financial and productivity loss, stalled projects, and missed deadlines, among others. To reduce these challenges, organizations should choose a robust automated backup and recovery solution for Microsoft Planner.
FluentPro's solution delivers the most effective Microsoft Planner backup for your company. Our team is here to help you automate Microsoft Planner backup and restore and prevent your system from devastating consequences. Our Office 365 cloud backup solution provides effective capabilities.
Significant value from using FluentPro Backup for Microsoft Planner
With FluentPro Backup software for Office 365 Planner, your organization gets considerable value, including:
Reduced data loss risk
Diminished expenses and emergencies associated with human mistakes
Comprehensive data protection in project management systems
Continuous automatic backup
Automatic point-in-time version recover
Minimal support and maintenance required
How to backup Microsoft Planner?
Microsoft Planner doesn't offer inbuilt backup features. Several third-party applications and services, such as FluentPro Backup, specialize in backing up Microsoft Planner data. You should consider FluentPro Backup because it offers automated backups, advanced customization options, and additional security measures.
How to restore deleted Planner?
Although Microsoft Planner does not provide a way to restore deleted plans, users can adopt third-party tools to offer the service. FluentPro Backup is one solution that allows you to recover or restore your deleted Planner data automatically.
How to recover a deleted plan in Microsoft Planner?
Microsoft Planner doesn't support the recovery or restoration of deleted plans. However, you can restore deleted plans in MS Planner using FluentPro Backup. This third-party software from FluentPro lets you automatically restore a deleted plan in Planner from two pages: Data Protection and Operation Details.
Get a reliable data protection
for Microsoft Planner today
Sign Up