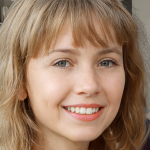 Valeriia Sitolenko
PPM Consultant
Smartsheet Software stands out as one of the best compared to other project management solutions. Retaining some of the characteristics of an advanced spreadsheet for which it was originally designed, the resulting product is an intriguing piece of software. Advanced program management features make Smartsheet one of today's top project management software. In this Smartsheet review, we explore its key project management features and drawbacks. 
What is Smartsheet?
Plan projects and assign tasks to team members quickly with Smartsheet project management solution, a spreadsheet-based system for managing projects and keeping tabs on team progress. Smartsheet helps organizations of all sizes streamline their operations and boost teamwork and is an essential tool for businesses that must track multiple complex projects at once. For companies sharing a spreadsheet is part of teamwork, Smartsheet is the project management tool of choice. 
How Smartsheet works
Your work is organized into "sheets," like dossiers for your various tasks.

 

Users record critical project information on each sheet, including project description, status, expected completion date, and allocated team members.

 

Users can also post files, make comments, and check for updates.

 

Users can view sheets in various formats, such as grid view, Smartsheet Kanban-style cards, Gantt charts, and calendar view.

 

Smartsheet is also utilized for resource management, reporting, dashboards, automated workflows, and cross-project summary views.

 
Businesses choose Smartsheet software as their project management solution for its transparent, real-time overview of work across all projects.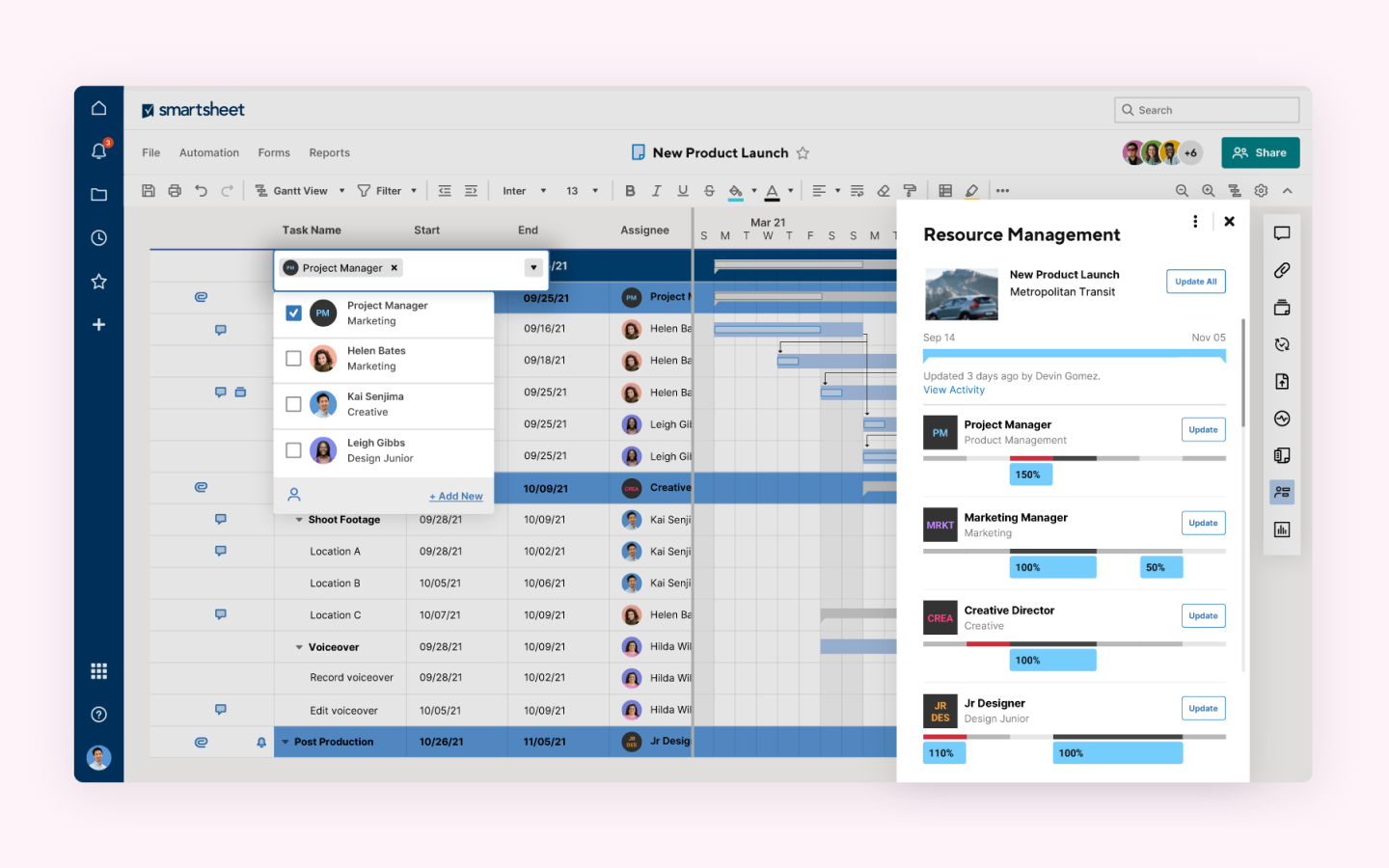 Image source: https://www.smartsheet.com/ 
Smartsheet as project management tool
Project managers, individuals, and organizations can all benefit from using Smartsheet. It is a platform-agnostic solution for managing the whole project and program management lifecycle, including resources, timelines, and other critical aspects. Typical applications of Smartsheet include: 
Management, supervision, and control of projects

 

Programs and portfolios management

 

Content administration 

 

Project resources management

 

Procedures management

 

Defining roles and authorization to control access

 

Mechanical process automation

 

Consolidated help desk

 

Add-ons and integrations

 
Smartsheet's more advanced features allow it to be used for purposes beyond project and resource management. 
Key features
Smartsheet's many functions and perspectives are all derived from traditional spreadsheets, making Smartsheet a fantastic option for those who prefer minimalist user interfaces. The default view is called the grid view, a simple collection of spreadsheets for you to interact with. 
Unlike a standard spreadsheet, Smartsheet's robust grid view offers far more freedom to rearrange cells and assign predefined or custom values to each column and row. 
More views
When the grid is complete, you can move on to tinkering with the other primary displays. Switch between Smartsheet's calendar, Gantt chart, and Kanban board with the click of a button. Include a date field in your data grid for the calendar to function and for the Gantt chart to begin and terminate on the correct dates. Unfortunately, Scrum boards are not available at this time.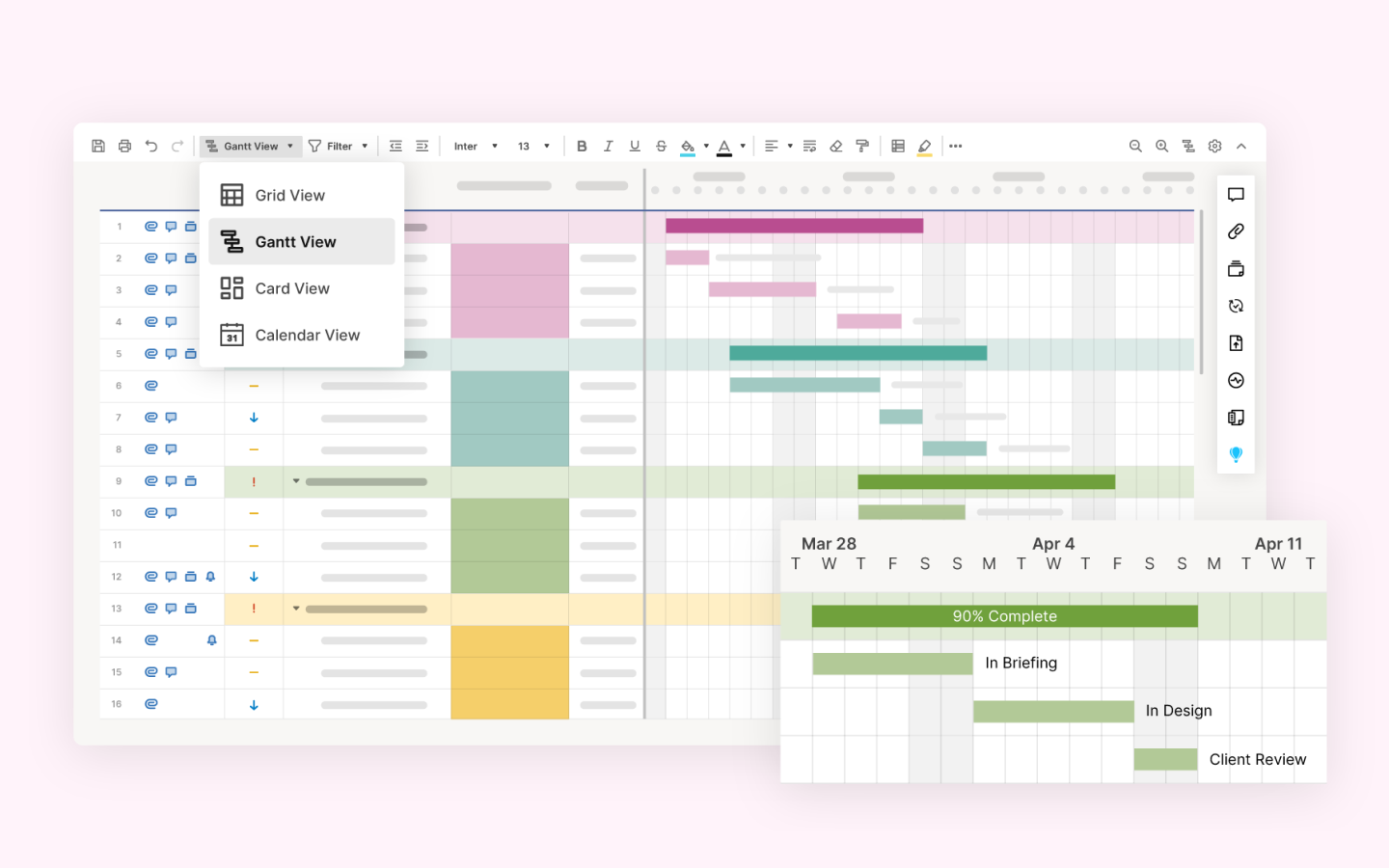 Image source: https://www.smartsheet.com/ 
Work management
Smartsheet's advanced features, such as time tracking, make it a valuable tool for handling complex multi-stage projects. Its built-in file-sharing features provide ease to project managers in automation, reducing manual work. 
Smartsheet offers cutting-edge capabilities, including online forms and workflow automation. 
Use Smartsheet's web form to collect information from website visitors and import the results into your sheet to track and analyze. 
Task automation
Smartsheet also offers robust automation, both internally and with external apps. (Slack and email help receive notifications if something changes.) Use the automation features to schedule updates from specific users and define workflows and approval processes per your needs. 
User-friendliness
Smartsheet's intuitive design means users will feel more at home when switching from another collaborative tool. While Smartsheet appears to function at first glance similarly to other programs, its roots as a spreadsheet program provide it with several unique features. Enter your email address on Smartsheet's website to get started today. 
Data security and privacy
As an enterprise-grade solution, Smartsheet adheres to the industry's most stringent data protection standards to protect your team, data, and company. To prevent unauthorized access, it provides a multitude of security features, such as: 
two-factor authentication

 

single sign-on (SSO)

 

granular user access controls

 

secure data centers

 

AES 256-bit at-rest encryption and more.

 
Smartsheet complies with numerous privacy and security regulations, including HIPAA, GDPR, ISO, SOC, ITAR, and FERPA. 
Smartsheet project management
Workspaces are at the top of the Smartsheet hierarchy, followed by the sheets. You can fit a whole project onto a single sheet because each contains all the views covered in the previous section. There are several possible configurations here, such as giving each team in your firm its page or using each sheet to track a different subproject. 
Information is displayed similarly to other spreadsheets, and additional tools can be accessed from the tabs at the top. Smartsheet is user-friendly, with many customizable options to rearrange and resize cells. 
Smartsheet advantages and disadvantages
The high-level advantages and disadvantages of using this software are listed below. Let's review Smartsheet pros and cons.
Advantages
Smartsheet is the perfect project management tool for those proficient with spreadsheets and Excel.

 

Its flexible design allows users to create tasks in the designated rows and columns and rearrange them.

 

Building each task allows you to maintain all your project notes in one place, in order, and with due dates and attachments for easy tracking and collaboration.

 

Team members can share content, examine timelines, comment, and divide duties via Smartsheet's many perspectives.

 

The application's advanced reporting and analytics make it simple to compile the most critical data from various sheets into a single report with just a few clicks or taps. This will allow users to spot patterns and possible roadblocks for continual improvement.

 

Reports can be shared with team members, stakeholders, and other interested parties by publishing and making them accessible online.

 

To keep your team, data, and business safe, Smartsheet employs industry-leading data protection standards.

 

The application has various security measures, including two-factor authentication, single sign-on (SSO), granular user access controls, secure data centers, and AES 256-bit at-rest encryption.

 

Smartsheet excels above the competition because it offers various integrations, connectors, intelligent processes, and automation features.

 

Drag-and-drop automation builders simplify complex automation.

 
Disadvantages
Like all applications, Smartsheet has some minor drawbacks that make it less ideal for usage by project managers. 
Smartsheet doesn't have time-tracking capabilities. Time tracking is an essential aspect of the business process for teams working on numerous multi-stage projects simultaneously.

 

There is no native chat feature, and the app does not integrate well with other messaging platforms. Users must install third-party software to get around collaborative chat, which might add unnecessary expense and complexity to your business operations.

 

There is a steep learning curve for first-time spreadsheet users. 

 

While Smartsheet's capabilities are numerous and valuable, it may take some time for users to become acclimated to the program and begin making the most of it.

 
Pricing
There are four pricing tiers, with each successive plan offering more features. 
Free
If you're interested in Smartsheet but aren't sure it's the right fit for you, the Free plan is a great place to start. 
It is available for 30 days.

 

The Free plan provides infinite dashboards for one user and two editors.

 

The user is allowed to make as many dashboards and reports as they like, up to two pages.

 

The Free plan only supports a small number of connectors, including Google Workspace and Slack.

 

Using the in-built rules and alerts tools, you can design simple web forms to collect data and automate up to 100 recurring activities.

 
In addition to Smartsheet's extensive online knowledge base, the online community is there to help as well. 
Pro
The Pro plan is the first premium option and is tailored for small teams working on demanding projects. 
Critical path analysis, portfolio, and resource management are all part of the Pro package.

 

Advanced automation can be established using conditional logic and cross-sheet workflows.

 

Take advantage of enhanced storage and sharing options and a broader selection of integrations.

 
Business
Features like single sign-on, audit logging, and user provisioning are available in the Business plan, which aids governance and administration. As a result, this strategy is ideal for organizations with large teams needing security and compliance monitoring. 
Includes better automation functions like data routing and data visualization.

 

In addition to additional connections like Tableau, Power BI, and Okta, the Business plan also enables superior teamwork and reporting.

 

You have a personal account manager and can get training and set-up assistance whenever needed.

 
Enterprise
The Smartsheet Enterprise plan is a tailored solution for organizations with large teams and complex deployment requirements. 
When you upgrade to the Enterprise plan, you can access Smartsheet Advance, which provides advanced tools for managing large-scale projects, programs, and processes. 
Smartsheet Advance has enhanced security, CRM and software development connectivity, intelligent workflows, enterprise-grade governance, and administrative features. Each of the three tiers—Silver, Gold, and Platinum—offers unique perks. 
Conclusion
An application that works similarly to a spreadsheet, Smartsheet is one of today's most powerful solutions for managing projects. It has many features and is a good fit for teams of all sizes. Through improved communication and cooperation, as well as scalable process management, Smartsheet is a platform that can be easily adapted and helps individuals and teams become more productive. However, it does have a few minor restrictions, and thus it is recommended to use the free 30-day trial period to evaluate if Smartsheet satisfies your requirements. 
Learn more about how you can protect Smartsheet projects 
More