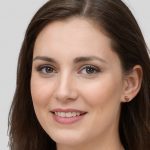 Elena Humeniuk
PPM Consultant
From Trello to Jira or Asana, various software solutions are available for project and task management.
Microsoft Planner, To Do, Project, Tasks in Microsoft Teams, and others are just a handful of the task management tools offered by Microsoft alone. This article will talk about Microsoft Planner and how to use it.
What is Microsoft Planner?
Planner is a web-based Microsoft task manager and part of the Office 365 Services package. This simple application allows you to plan tasks and manage minor projects without putting in a lot of work.
With Planner, you can build a plan, assign tasks, assemble a team, and update the status of linked activities. MS Planner also supports agile work processes with tools like the Office 365 Kanban board. The software is equally suitable for managing individual as well as team projects.
The integration of MS Planner within the Microsoft Office 365 environment — including SharePoint, Teams, and Outlook interfaces, among others, sets it apart from the competition.
As for Office 365 Planner protection, there are multiple ways to guarantee security.

Microsoft Planner Features
Microsoft Planner can help project managers and teams plan and assign tasks. Moreover, it also has a chat feature for collaborations and charts to track progress and approaching deadlines. Besides, Planner gives users the ability to group and filter their tasks.
But these are only some of the features of MS Planner. Let's look at what else the task manager offers:
Visualized Status Insights: Planner automatically visualizes task status into pie and bar charts with no setup required. These auto-generated charts help you track overdue tasks, your task buckets, and more.
Connect across Microsoft 365: Being a part of Microsoft 365, Planner has the same level of protection as the other MS 365 apps. It integrates with Microsoft To Do, SharePoint, Power Automate, and other programs for efficient task management. Moreover, Planner is particularly well-suited to Microsoft Teams for syncing all your tasks with advanced collaboration tools.
Multi-platform Support: Planner has the added benefit of being cross-platform compatible. MS Planner can be accessed on any platform, whether using a browser on your PC or through your phone's Android or iOS app.
Collaborative Task Management: My Tasks in Planner displays all your tasks, and team members can comment and attach files to them. The Planner feature also extends to Outlook, Outlook Groups, Teams, and more.
Schedule View and Task Filters: Users may view all their tasks on a calendar in Planner's schedule view, and filters enable you to order your tasks by the deadline to identify what work is due soon.
Assigning Tasks: Unlike some other task management software, MS Planner allows you to assign projects to multiple team members.
Control Access to Tools: You can add external access to your projects with MS Planner. To ensure everyone is on the same page, it enables you to include other stakeholders such as vendors, contractors, and others.
Import into Outlook: MS Planner may be added to Outlook via an iCalendar feed, making scheduling and time management more effortless.
Get Email Notification: Microsoft Planner also can notify users via email to alert them about coming deadlines.
How to use Microsoft Planner?
Planner is an excellent option if you're looking for a lightweight project management application based on visual Kanban Boards. Planner Boards are based on Office 365 groups, and the permissions are inherited from the designated group. You can make a board that isn't affiliated with a group for personal task management.
Each job is represented by a card on the Microsoft Planner Board, displaying the task owner, description, status, due date, etc. Cards are grouped into columns, which can also be labeled.
In Microsoft Teams, creating a board using Planner helps keep you and your team organized. Planner provides different task board views, allowing you to view your board as a calendar, via status charts, and more.
An essential aspect of Planner is its quick, visual stats. You can quickly see the status of a task, the overall number of tasks, and their priority.
Another advantage of Planner is that it works in unison with Teams. Moreover, you can add it to your channel as a tab and edit from there. It is an excellent feature for groups utilizing a Teams channel to talk about a project, share files, and manage tasks in Planner.
Pros and Cons of MS Planner
To help you weigh the advantages and drawbacks of using MS Planner as your task management solution, we take a look at some of its pros and cons: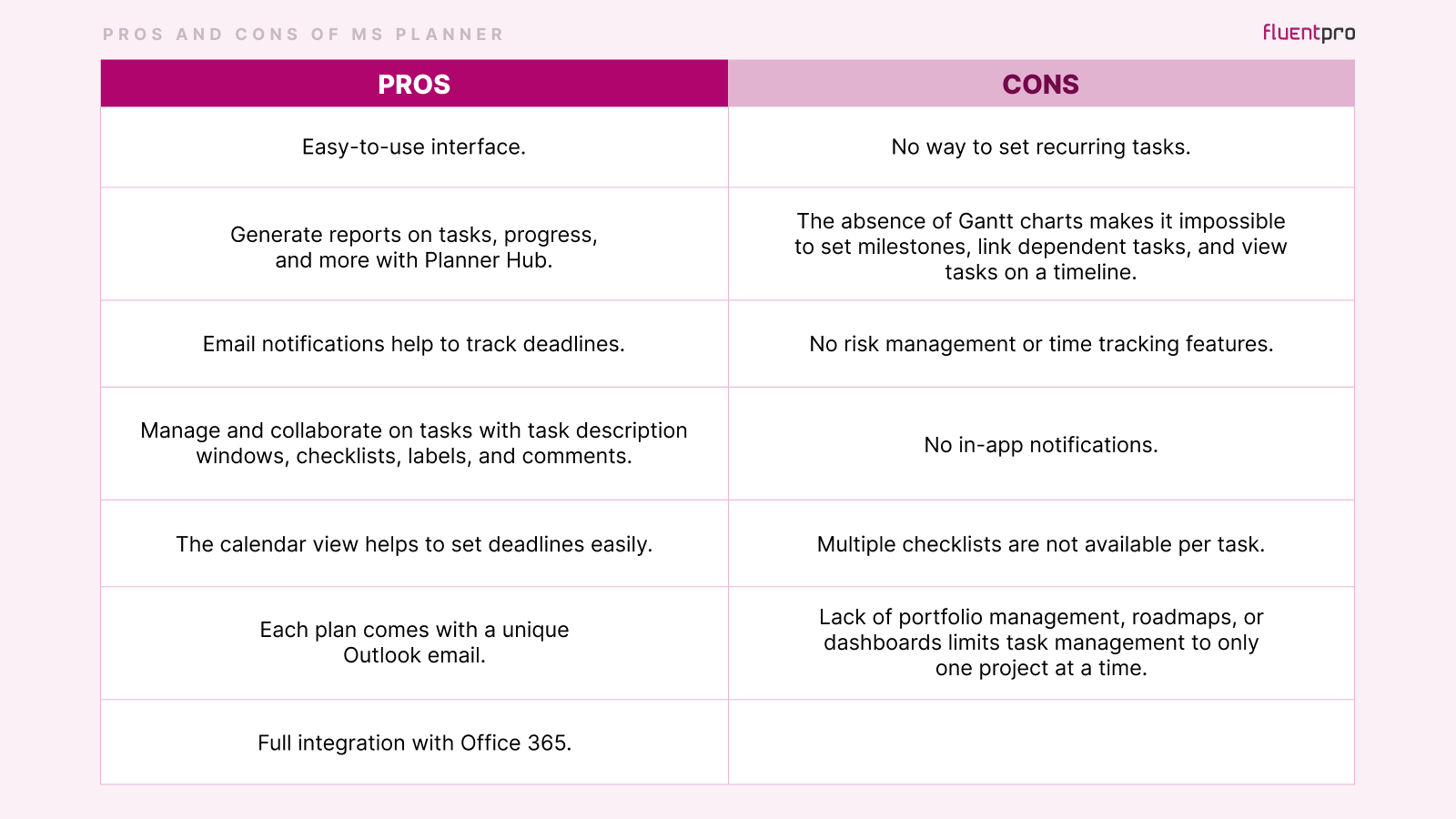 Final Thoughts
Microsoft Office Planner is an excellent work management tool for individual and team project management. To make Microsoft Planner usage more efficient, FluentPro offers multiple advanced solutions. You can get help with automated integration of Office 365 Planner and Project Online, pre-defined data reporting, and reliable data protection.
Schedule a discovery call
to find out how FluentPro Team can help your business
Contact us