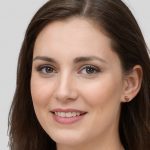 Elena Humeniuk
PPM Consultant
Project management software can give you an edge when dealing with multiple, complex projects for your company. These tools help you allocate resources, assign tasks, and track project status more efficiently.  
Inadequate management practices waste money, energy, and time, so companies are investing in techniques to utilize their workforce better.   
What is project management software?
Project management software is a digital tool that helps organizations plan, organize, and monitor team tasks, resources, and communication. It is designed to streamline and automate: 
Various tasks

 

Scheduling

 

Budgeting

 

Task assignment

 

Progress tracking

 

File sharing

 

Team

collaboration

 
Project management apps are used across industries and by organizations of all sizes to improve workflow quality, reduce costs, increase productivity and development, and ensure timely completion. 
How to choose project management software
Choosing the appropriate project management software can be a daunting task. Organizations must define their business goals first and then identify the best software to meet them. Moreover, you should consider some critical criteria before making an informed decision. Here are some factors to keep in mind when selecting the best project managing software: 
Organization's needs. Determine your specific requirements and identify the areas where you need the most support. This could include task execution,

team

collaboration, tracking, reporting, and budgeting.

 

Budget. Consider your budget and look for a tool that fits it. Some project management software offers free or low-cost plans, while others require a more significant investment.

 

Ease of use. The ideal solution should provide a user-friendly interface accessible to everyone on your

team

.

 

Scalability. Consider whether the software can grow and scale with your business, as well as if it can support your future needs as your

team

expands.

 

Integration capabilities. Check if the software integrates with other tools you use, such as messaging apps, email, or accounting software. You need to ensure seamless collaboration and efficient workflows.

 

Security. You must ensure that

PM programs

meet your security requirements. It is essential if you need to share sensitive data or confidential information.

 

Customer support. Look for solutions that offer robust customer support. It should be available 24/7, including help articles, training resources, and responsive customer service.

 
Considering these criteria, you can narrow down your options and select the management software that best meets your needs and fits your budget. 
What features should a good project management software include?
Good project planning programs should have various features that help teams effectively plan, execute, and track tasks. Some key features to take into consideration include: 
Task management. The software should allow you to create, assign, and track tasks, set due dates and priorities, and communicate about the status.

 

Time tracking. You need to get tools to track the time spent on each task, measure productivity, and identify areas where

team

members may need additional support.

 

Project planning. You should be able to plan and schedule tasks, create timelines and milestones, and assign resources to different tasks.

 

Collaboration tools. The

software packages for project management

should include features that enable

team

members to communicate and collaborate, share files and documents, and provide feedback on work in progress.

 

Budget management.

The software must allow you to manage your budget, track expenses, and identify areas where costs can be reduced.

 

Reporting and analytics. Solutions should provide reporting and analytics features. With

project reporting software

, you can track progress, measure

team

performance, and identify areas for improvement.

 

Integrations. The software should be able to integrate with other tools and services that you use, email, document sharing, and other work management platforms.

 
Good work management software should be intuitive, user-friendly, and customizable to your team's needs. 
Choosing the Right PM Software
Project management programs make work management seamless and give your company a competitive edge. Because each PM software has unique features and shortcomings, there is no universal software that can cater to the needs of every business. 
This article looks at some of the best PM tools from hundreds of alternatives. Discover the list of project management software: 
Monday.com
Monday.com is a popular open-source project manager. The software is best for partnering sales with project management, setting it apart from the competition. 
The platform is best known for its versatility, and it comes with valuable features like customizable templates, custom task automation, multiple views, and built-in time tracking, among many others. With robust integrations, Monday can sync with Slack, Zoom, and other tools. 
Monday.com includes an Undo option when an entity is deleted. It's available for only 1 minute, ensuring security. 
Monday.com also boasts highly customizable Dashboards and is packed with pre-built widgets that allow organizations and their managers to get real-time capacity updates and ensure swift resource allocation. With private or public settings, this project controlling software also enables you to control access to your dashboards easily.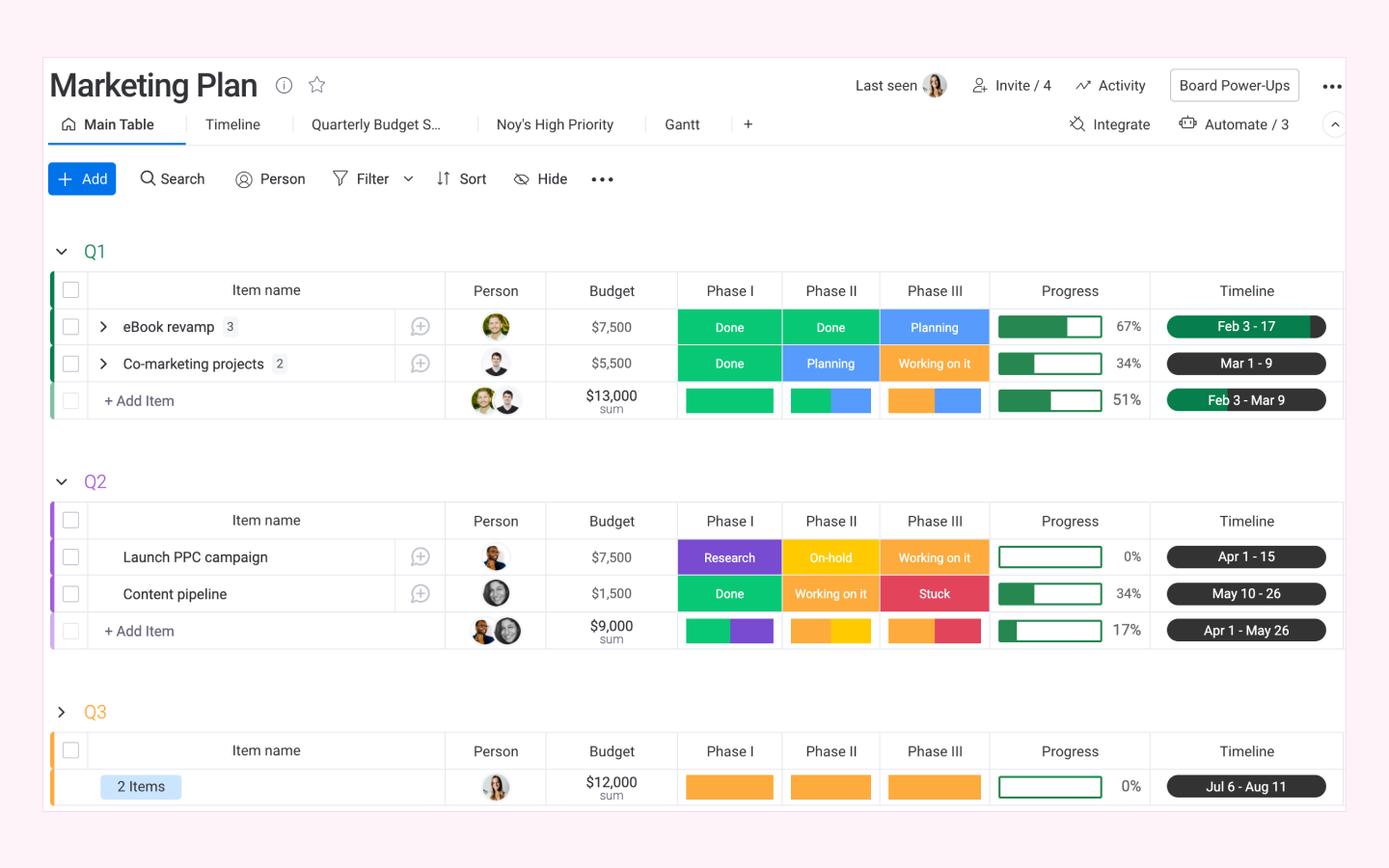 Image source: https://support.monday.com
Besides a few drawbacks regarding limited task dependencies and subscription-exclusive features, Monday suits your project management needs. 
Trello
Trello is a cloud-based solution famous for its support across cross-platforms. It is an excellent option for new project managers.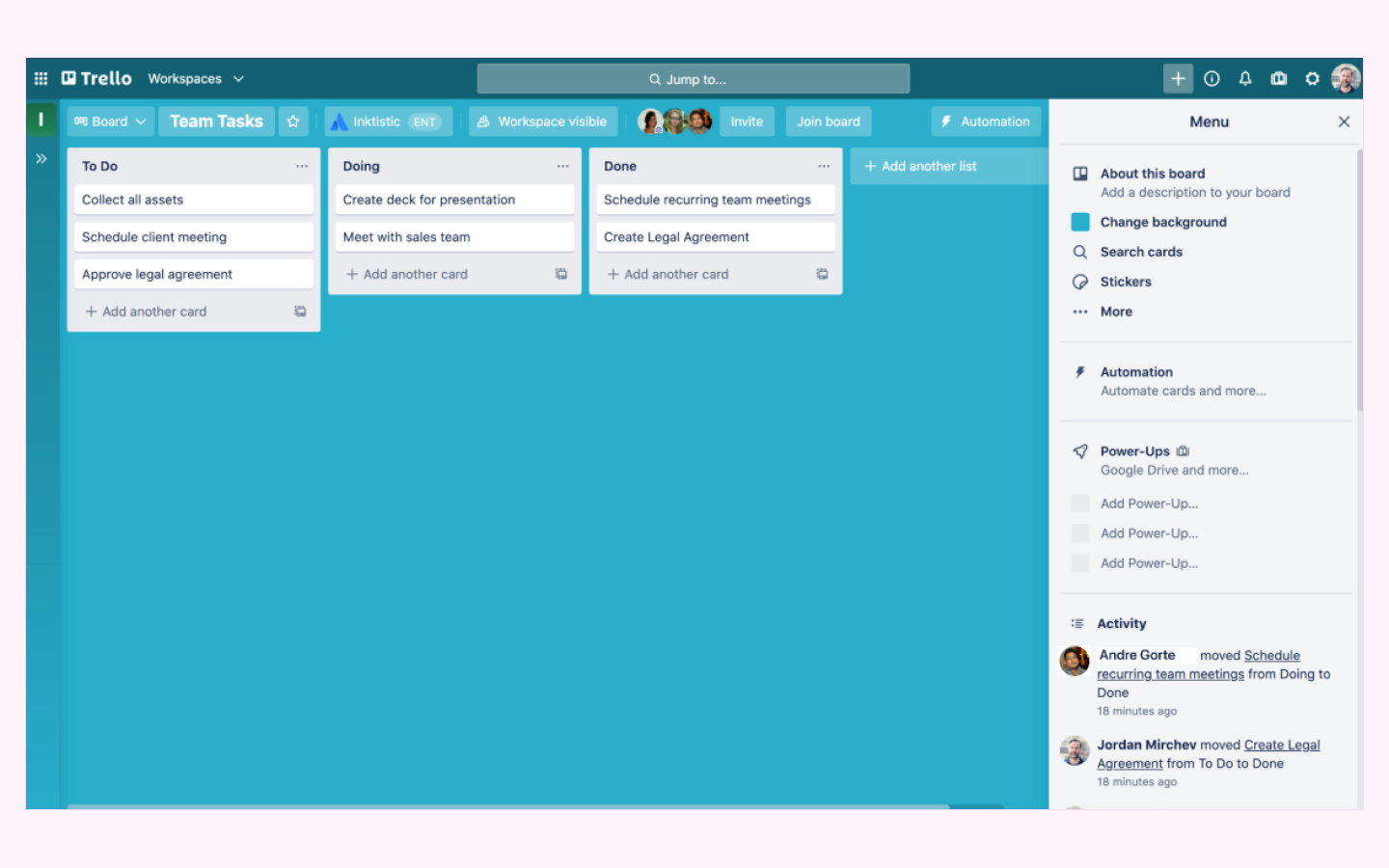 Image source: https://trello.com/
This project management software project features a simple interface and uses a Kanban-style card management system, making the process fast and flexible. You can even attach due dates, important links, images, files, and other helpful information on the cards. 
Users can organize their projects using computers, tablets, or smartphones. It supports Windows, Mac, and other iOS devices, allowing them to use intuitive shortcuts to speed things further.  
Trello's drawback comes in the form of a limited reporting feat. If you need detailed reports, you're better off using third-party tools or exploring an entirely different option. 
Project for the Web
Project for the Web, part of the Microsoft Project product family, is a simple and intuitive task management solution that PMO admins can use to manage projects of any size. 
Based on the Microsoft Power Platform, Project for the Web offers features like Project Home, Roadmap, and a web-based, easy-to-use program for project management. 
Microsoft's Project for the Web is built for lightweight projects but still has many features. You can easily set and track dependencies, visualize with Board View, or manage projects with the hierarchical Task Grid view.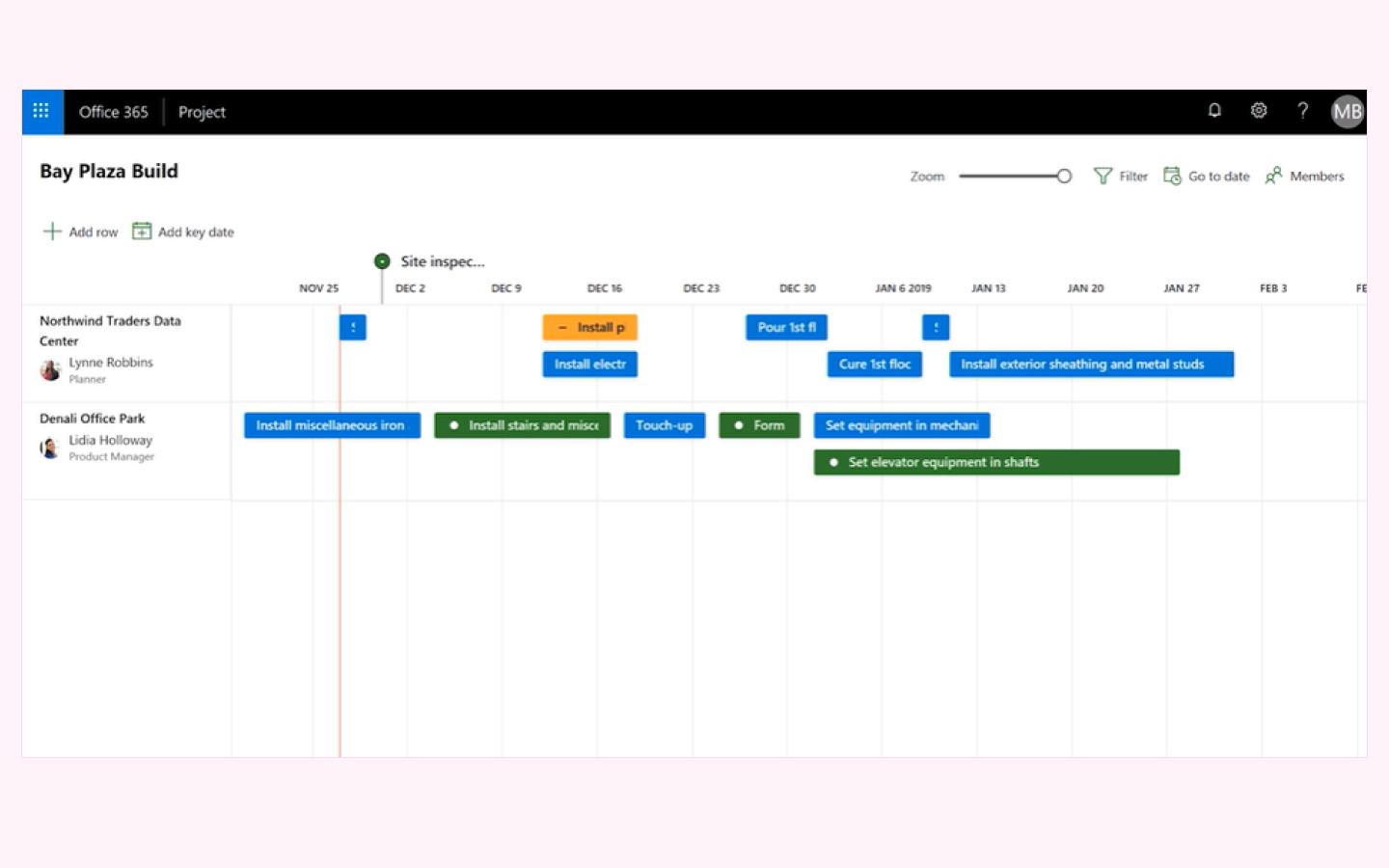 Project for the Web lets you track the most critical tasks with Milestones, visually monitor timelines with Task Scheduling and Gantt charts, and track deliverables and phases with Summary Tasks. In addition to its in-built features, this software project management system includes integration with the MS ecosystem, making it easy to use with MS Teams, Power BI, SharePoint, and more. 
BaseCamp
Launched in 2004, Basecamp is one of the oldest project management solutions on the market. It has become popular among large enterprises as a handy tool to work on large, complex projects. 
The app has over three million users and is popular for its robust collaboration features.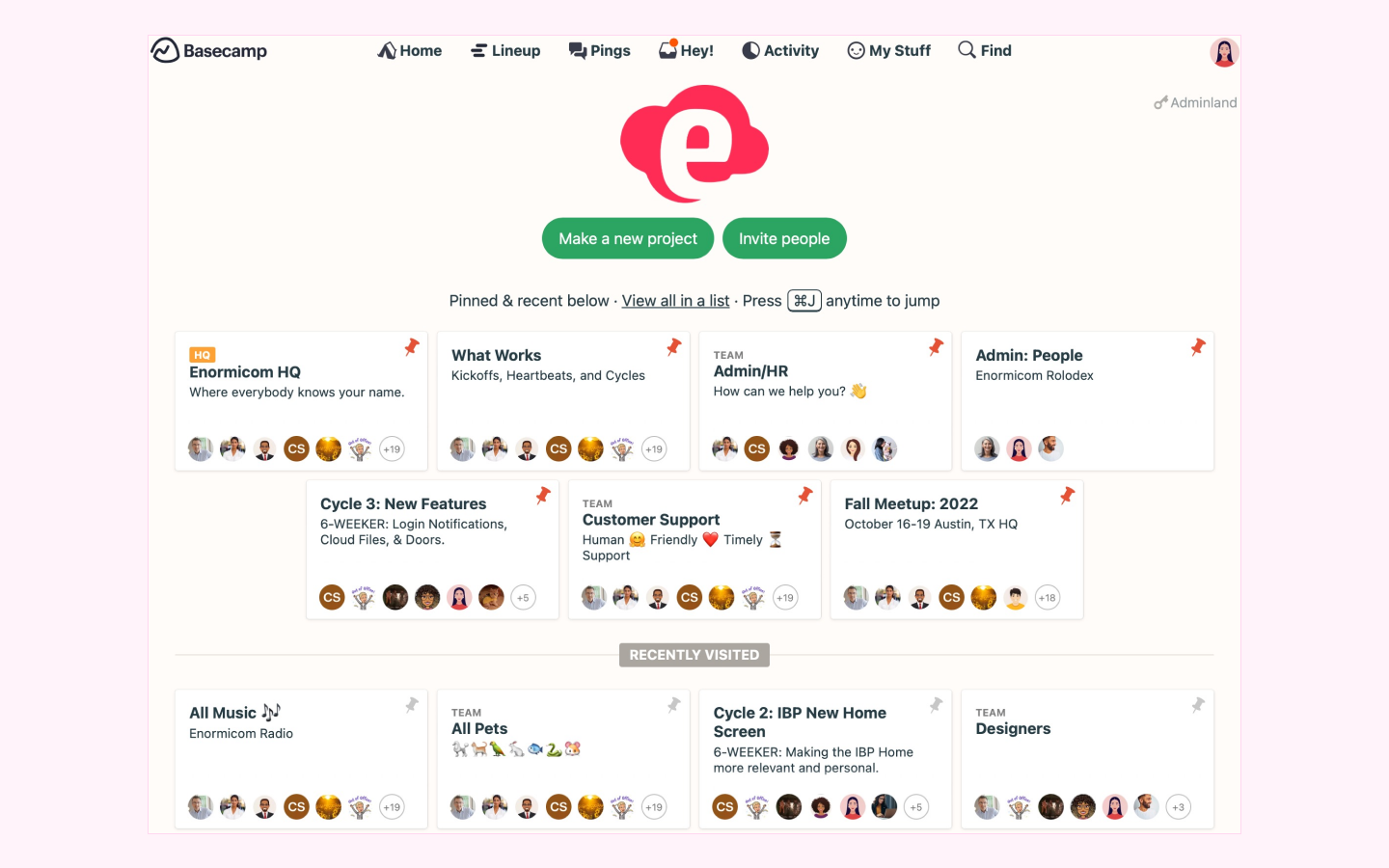 Image source: https://3.basecamp-help.com/
Basecamp is best known for collaborating with group chats and message boards. Moreover, it features a clean interface.  
Project management software projects have a powerful 'Find' tool that lets you find any task, message, or image you need. 
Users can easily communicate with clients via email integrations and share progress with people outside the business. They can even customize notification settings to pop up only during work hours. 
What are the benefits of using software for project management?
Choosing the right tool among all those project management software companies helps organizations meet their business goals and increase productivity. Other benefits include: 
Enhanced collaboration and communication. With a central location for all communication, it's easier for

teams

to discuss tasks and updates.

 

Increased productivity. Organizations can get streamlined workflows, automate repetitive tasks, and help

teams

stay on top of their work, enhancing productivity.

 

Centralized file and data access. All data and clients' information are stored in one place, making it easier for team

members

to access and share information.

 

Simplified task management. Creating, assigning, and tracking tasks gets easier, ensuring that everyone knows what they need to do and when.

 

Transparency between team members.

Project manager platforms

promote transparency by providing a central hub for all task-related communication. This allows team

members

to stay informed.

 

Real-time goal setting and progress tracking.

Teams

can set and track goals in real-time. This option gives everyone visibility into progress and ensures that projects stay on track.

 

Accurate resource management.

Teams

can easily track

resource

allocation

, ensuring efficient and effective usage.

 
Overall, project management tools help organizations work more efficiently, improve communication, and increase productivity. These benefits lead to more successful outcomes. 
FluentPro – supporting your project management needs
With all the project planning software available on the market, it is often hard to settle on one. Besides, it is often necessary to work with multiple PM software for different needs and requirements of various tasks. As such, having an all-in-one solution like FluentPro to simplify your PPM experience is beneficial. 
Trusted by global giants such as Forever 21, Revlon, Metlife, and Starbucks, FluentPro offers a unique range of solutions to help with migration, integration, protection, and operations for your PPM software.  
With the fast and fully secure migration feature, FluentPro lets you seamlessly shift from one platform to another without losing out on security or critical data. As a result, companies can save time and resources by avoiding the trouble of finding a technical expert.  
In addition to advanced automation features, FluentPro offers full Microsoft Project Online integration with Jira, Outlook, Azure DevOps, and other project organizer software.  
FluentPro also offers reliable protection for Microsoft Project for the Web, Monday.com, Asana, and others. Get more information about backup and restore solutions. 
Conclusion
As business operations become more complex, efficient platform project management is essential for businesses to survive the high competition.  
Successful organizations and managers must remain adaptable and efficiently utilize the available workforce, time, and resources to minimize losses. 
Navigating through all these options can be confusing, and it can be tricky to determine the best choice for your business. We hope this article on top project management software has made it easier for you! 
Request a demo
to see how you can protect your project management system
Book a demo